---
April 17, 2018 Issue #145
---
Read this first:
This newsletter is only half the story. The other half is the articles it links to. You can trust these links to take you to only the articles described. There is NO malware, adware, viruses or other harmful content. If you couldn't trust these links, I wouldn't put my address at the end of every issue. (Jack Zavada, editor)

---
Getting motivated: Revive your enthusiasm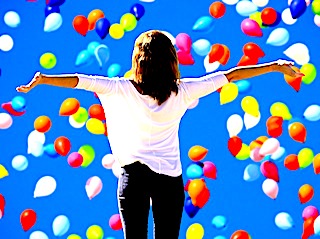 Apathy. It's a dangerous problem for singles, a defeated feeling that nothing matters, that there's no reason to get out of bed in the morning.

Because I've had to battle this threat many times myself, this month I want to review some proven strategies for getting motivated. I can be a procrastinator, and these strategies have put me back on task when I've been tempted to get detoured.

What can we do when we need motivation? What practical steps can you and I take when our energy is running low and we feel like giving up? Well, we can start by looking at our assets. Are you relatively healthy? Are your basic needs of food, shelter and clothing being met so you don't have to worry about those? Do you have a job or the skills to get a new one?

Are you willing to acknowledge that optimism and determination are life giving, and pessimism and inaction are life robbing?

Getting motivated is so important that it means the difference between a happy life and a miserable one. This is one change you can make that will have a tremendous effect on your world.

Let's all get a booster shot of enthusiasm and learn about getting motivated.


---
The Sixteen-hour Life
I'm living the sixteen-hour life.
I narrow it down to a day.
I've learned through the years,
Disappointment and tears,
That the sixteen-hour life is the way.

When you live the sixteen-hour life,
You find that the clock is your tool.
You set a firm pace,
you don't loiter or race.
For the one who wastes time is a fool.

There's sense in the sixteen-hour life.
Balance the hours you spend.
Time for work, time for you,
And time to renew,
Will make each moment your friend.

Go through the sixteen-hour life,
Plus eight hours to sleep and repair.
Don't take to bed
The fears in your head.
Drift off as you whisper a prayer.

You can't live the sixteen-hour life,
if on your own power you depend.
God is your hope,
You need him to cope.
'Til you reach that life without end.

~ Jack Zavada, 2018 ~


---
Click twice to sample my book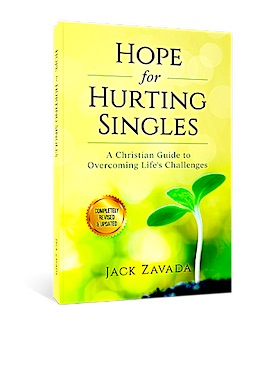 When you buy a book in a brick-and-mortar store, you like to thumb through it first, maybe even read a couple pages to see if it's something you'd like.

Do that with my new paperback right now. Just click Hope for Hurting Singles: A Christian Guide to Overcoming Life's Challenges. That will take you to the book's sale page. Then click the cover of the book to open amazon.com's "Look Inside!" feature. You'll be able to read several sample pages and check out the Table of Contents.

This is problem solving stuff! You'll get proven methods for dealing with things like:
Loneliness

Shyness

Rejection

Depression

Self-esteem

Fear

Bitterness

Peace of Mind

Faith
Hope for Hurting Singles comes from over 40 years of experience in the single life. Why struggle through alone when you can learn from somebody who has already been there?

This isn't about dating. It's about those emotions that drive you up a wall. It's about a calm, peaceful, contented existence. Think that's not possible for a single? Think again, friend! Whether you're looking for that special someone or not, Hope for Hurting Singles will simply help you enjoy life more. And who doesn't want that?

Follow this link at amazon to look inside Hope for Hurting Singles. It's $10.99

you'll be glad you invested.

---
Jim Rohn is April's Quotster of the Month
Author, entrepreneur, and motivational speaker Jim Rohn is the source of April's Quote of the Month:

If you don't like how things are, change it! You're not a tree.
~ Jim Rohn (1930-2009) ~

Realizing you do have the power to change things is the first major step. Too often we singles feel powerless. We feel trapped in our situation, lulled into complacency by the coziness of our comfort zone. Changing things is scary. What if they come out wrong? What if we make things worse?

That's a valid concern, yet any action requires a fallback plan, in case things don't go as we expect. Taking dangerous risks is gambling. That's something you don't want to do with your life. It helps to anticipate all the consequences, the likely ones and the unlikely, even if they seem remote. Then, for every unwanted consequence, devise a recovery plan. Bad outcomes occur when we don't have all the information we need to make a wise decision. Setbacks are inevitable, but with careful planning, they don't have to be permanent.

Hey! You're not a tree, okay? You aren't rooted to the ground and you don't have to let things keep happening to you. Rather than be a victim of circumstances, take control. Learning, trying, doing is how we move ahead.


---
My super-simple motivator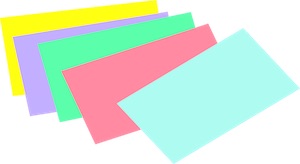 We singles can get distracted easily. I have so many chores to do I usually don't know which one to start next. A couple years ago I came on a simple system that not only keeps me on track, but it also motivates me to get things done. I learned about it from pastor, author, and host of InTouch radio and TV ministries, Charles Stanley. He said he uses it every day.

It's the low-tech 3" by 5" note card. I like to use colored ones, but white ones work just as well. Every morning, I write that day's tasks on a card, prioritizing them from top to bottom. This newsletter you're reading right now takes several days to write and lay out. It began as tasks on my daily note card. I put the mundane chores on there as well, such as "buy groceries," "make supper," "pay bills," and "unload dishwasher." Since I'm retired, I don't have to put "go to work" on there, but I do some freelance writing, so I list those articles also.

Now I know you could put a fancy "To-do list" on your phone, but I like the card for three reasons. First, I can pull it out and check it instantly. Second, there's something about physically writing something down vs. typing that seems to lodge it in your brain better. And third, I get more satisfaction out of crossing off a completed job with my pen than I would just by deleting it electronically.

This really works! I never forget anything I have on my daily list. I may not finish all my tasks, but I just carry the low priority ones over to tomorrow. It gives me a neat sense of accomplishment, and what's more, I'm not hurrying around at the last minute to do something because I did all the time-sensitive jobs first. Primitive? Sure. Effective? You betcha!!

Buy yourself a pack of 3" by 5" note cards and try it out for a month. Let me know if it works for you! too.


---
Why doing your chores pleases God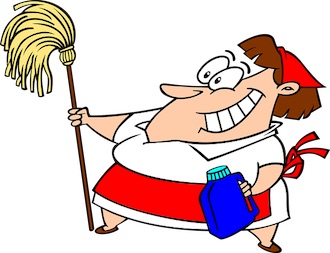 The Protestant reformer Martin Luther (1483-1546) believed we serve God when we do our everyday tasks. The Creator of the Universe loves order. When we do our work diligently, when we complete our mundane household chores, we contribute to an orderly world. If you're a street sweeper, Luther said, be the best street sweeper you can be. All jobs are important. All work matters.

Benjamin Franklin (1706-1790), a Founding Father of the United States, was not a particularly religious man, but he said, "We serve God best by serving others." Not a bad philosophy. If you forget about being thanked or getting recognition, you'll be much happier along those lines. Do it for God. He will thank you in his own way. Serving God to show your gratitude for all the good things he has done for you is always the best motivation.

Living the single life well requires self-motivation. We each have to find meaning in the things we do. I often feel overwhelmed by all the jobs before me, but I believe I am a part, if only a tiny part, of God's huge plan. None of us will know how much we really mattered until we get to the next life. Then Jesus will show us how we fit in and what effect we had on others. We all long to hear him tell us, "Well done, good and faithful servant!"

On another topic, I'd like to motivate you to give me a bit of help if you purchased Hope for Hurting Singles. Would you please go back to its page on amazon.com and write a review of it? Please give it an honest evaluation, noting specifically what you liked and didn't like about it. Reviews will help my sales, which in turn will help my income, which will keep these fre'e newsletters coming to you every month. Thank you!

As the world gets crazier and crazier, the high morals and wisdom of the Bible make more and more sense. Jesus is truly the light of the world, a countercultural beacon of truth and goodness. More importantly, though, he is the only way to get into heaven. He saves men and women from their sins. That's an unpopular stance today, but the truth usually is unpopular. If you don't have Jesus yet, check him out. He'll bring sense and salvation to your life!

Before I forget, you can always drop me an email through our single-friendly contact form. Your message is secure, confidential, and goes right to my inbox. I'm the only one who sees it and the only one who will reply.

That's it for our April issue, single friend. I hope it motivated you to keep picking them up and putting them down. Every day is a safari of singleness. Good things await. Jump out of bed in the morning to find out what they are!

Until May,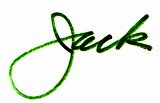 Jack Zavada
www.inspiration-for-singles.com
401 Indiana Ave
Streator, IL 61364 USA