April 20, 2021 Issue #181

---
Feel insignificant? Join the club!
If you ever feel insignificant, rest assured that it comes with being single, and it's not just you.

For some of us, the notion that we weren't "chosen" by somebody to be a partner in marriage can foster feelings of unimportance. Or maybe this feeling started with you early, in elementary or high school, as you compared yourself to others.

I hope this month's feature article will teach you two things, both of which took me decades to assimilate: 1) many forces—some very surprising—contribute to our feelings of insignificance, and 2) we can defeat those feelings when we understand our true worth.

Please take a few minutes to learn an effective strategy for when you feel insignificant.


---
Especially for me
I compare myself to others
and it leaves me feeling sad,
watching how they breeze through life
with gifts I wish I had.

When that occurs I say a prayer
and ask God for His rest.
He lovingly reminds me
of the ways that I am blessed.

My mirror does not communicate
the way I want to be.
But God sculpted this honest face
especially for me.

I could have been born smarter;
I was not a prodigy.
But God designed a curious mind
especially for me.

Everything about my life
speaks of His patient care.
I'm not common after all;
I'm wonderful and rare.


He planned for my my salvation
long ago on Calvary.
With love God built a heavenly home
especially for me.

~ Jack Zavada, www.inspiration-for-singles.com, 2021 ~


---
"Does God owe me spouse?"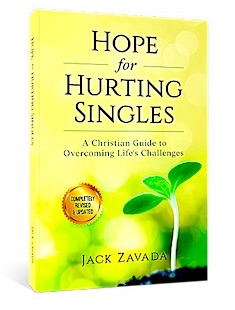 You'll have to read page 160 of my book Hope for Hurting Singles to find out, but that's just one of the hard questions I answer in this revealing 202-page paperback.

Here are some others:
"How can I trust God after someone rejects me?"

"What's the answer to 'What's the use?'"

"What are singles' two greatest fears?"

"Is bitterness really a choice?"

"What should be my true goal in life?"
Hope for Hurting Singles is practical stuff, not unicorns and glitter. It speaks to your pain. It addresses your worries. Best of all, I fumbled through trial-and-error for 45 years to come up with these strategies, so I can tell you these are not more theories from a psychology textbook. They work.

Maybe you think you know it all, that you've been through enough that you don't need this. But I'm 70 years old and I learn something new about the single life every day.

So don't be a bighead. Get Hope for Hurting Singles. For $10.99

you'll get a brand new outlook on life.

---
April's QOTM zeroes in on humility
For April's Quote of the Month, we turn to Cornelius Plantinga Jr., president of Calvin Theological Seminary in Grand Rapids, Michigan. He is also a professor of systematic theology, a preacher, speaker, and author:

A humble person is more likely to be self confident...a person with real humility knows how much they are loved.


~ Cornelius Plantinga (1946 - ) ~

There's a big difference between feeling insignificant and feeling humble. When you feel insignificant, you forget Whose you are. When you feel humble, you rejoice in the secret love affair between you and God.

Much confidence we see in the world is a front, an act to convince others the person has it all together. The Christian's confidence, on the other hand, is Christ-confidence, the amazing act of surrendering to the Lord to let him live His life through you.

God's love is empowering. When nothing else is going right, it always keeps flowing, assuring you your Heavenly Father stands with you no matter what. Humility is a special gift for children of the Most High God.


---
How to be a Christian single without being a doormat
"Goody Two-Shoes." "Hypocrite." "Self-righteous." "Intolerant." "Judgmental."

That's how many unbelievers see Christians. An awful lot of people actually hate us, but hey, we're experiencing a pandemic of hate today too. As single Christians, we also have to put up with others' stereotypes of us.

Christians walk a tightrope between being thin-skinned and being self-righteous. Unbelievers are watching us so they can confirm their prejudices. In our desire to be loving and "nice," sometimes we are perceived by them as unwilling to stand up for ourselves. Aggressive people may try to treat us as doormats.

A close reading of the gospels showed the Pharisees taking the same bullying attitude toward Jesus, yet he never let them run over him. We are not Jesus, but we cannot let ourselves be intimidated either. He set a good example for us of being humble but not self-abasing.

When I was a boy, my Dad told me, "You're not better than anybody else, but never forget you're as good as anyone."

It was a hard saying to understand at the time; however, his point was that I was not to act superior but neither was I to feel less important than others. It was a lesson in Christian humility.

When we gain our confidence from Christ's love for us, we are able to humbly defend our human rights without becoming offensive.

---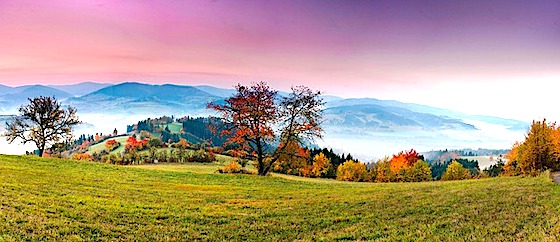 Tired of politics? Remember this…
If you're an American like me, you're probably so sick of politics it makes you want to hurl. I deliberately keep it out of this newsletter and www.inspiration-for-singles.com because it plays a very minor role in the single life. And because it's gotten so stupid.

I like to remind myself from time to time that I hold dual citizenship. While I'm a U.S. citizen by birth, I have been adopted into the Kingdom of God. If you're a Christian, you're a member too.

The Kingdom of God, also known in the Bible as the Kingdom of Heaven, is a major theme of Scripture, a reign that started with Pentecost but will not reach its fullness until the Second Coming of Jesus Christ.

Why am I so excited about this? Simply because our leader is God the Father, the most loving, truthful monarch who ever existed. Unlike politicians, He never lies, cheats, or breaks His promises. He wants only the best for every one of His citizens (including you and me).

What's more, the Bible says we're going to rule with Him some day. What that will entail is not revealed, but you can be sure the job will be perfectly suited to your talents, and it will be thrilling! I can't wait.

In his book The Kingdom Agenda, pastor and writer Tony Evans says this about singleness:

"Another reason many singles are dissatisfied is that they are not finding their significance in a personal relationship with Jesus Christ. God gives us significance regardless of our marital status. If you will view your marital status from the standpoint of God's purpose for you rather than solely from the standpoint of your desires, it will help you discover a deep contentment and significance that many people go through this life never knowing at all."

Single friend, it's time to put out the monthly call for comments on this newsletter. Zing them directly into my personal inbox via our bank vault-secure contact form. here.

Next month I turn 70. Cowabunga! I still learn something new about the single life every day, which shows there's either a lot to learn or that I'm an awfully slow learner!

God bless! See you again in May.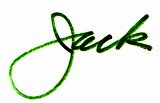 Jack Zavada
PS: Not a Christian? Find out how to become one!