---
April 2023 Issue 205
The problem with prayer: Facing reality
We singles need to pray. We must pray, but boy what a chore it is.

It shouldn't be so hard. I've learned, through a lifetime of painful experience with prayer that when you're doing it right, it's not only easy, but fun.

But there's the catch. How do you do it right? How do you turn it from feeling like going to the dentist to feeling like going to a party?

That's what I discuss in this month's feature article. I want to warn you right away that I don't have all the answers. In fact, most days I still struggle with prayer myself. But what you read in this article will, I hope, produce one of those light bulb moments in your own life.

Let's look at the problem with prayer.


---
FRE'E ebook: Jesus for Singles!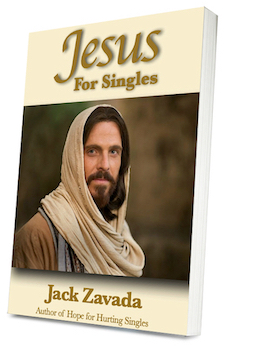 It's finally here! Even better, it's absolutely F'REE! (Goofy spelling required to get past your spam filters).

Almost a year of work went into this all-new ebook, tailored to single, widowed and divorced people. Each short, easy-to-read chapter focuses on a common problem in the single life. I think you'll like the conversational style and practicality of Jesus for Singles.

This 56-page ebook is in PDF format. You can instantly download it to your computer, tablet or phone. Read it on-screen or print it out and read the hard copy.

And hey, please tell your friends and relatives about it, and link to it in your social media. Yes, it's absolutely f-r-e-e!

Get all the details and the download link for Jesus for Singles.

---
Now I'm happy
I was sad over what I lacked.
I felt cheated by life;
that was a fact.

I could only see what wasn't there.
So I took it to God
in heartbroken prayer.

"Why everyone else? Why not me?"
Then in an instant
He let me see.

"I loved you before the world began,
you're an important part
of my master plan.

"I didn't give you
wealth or fame.
Very few even know your name.

"But don't look at your lack or loss.
see my Son
and his work on the cross.

"Forgiveness is my will for you,
and a home with me
where all is new."

Now I'm happy, now I see,
His love,
for all eternity.

~ Jack Zavada, www.inspiration-for-singles.com, 2023 ~


---
April QOTM: Look ahead
April's Quote of the Month comes from one of my favorite Bible teachers, Woodrow Kroll, who hosted the radio program "Back to the Bible" for 23 years. In addition, Dr. Kroll has written more than 50 books and preached the gospel in over 112 countries:

A moment of prayerful reflection can prevent a lifetime of bitter regret.
    ~ Woodrow Kroll (1944 - ) ~

Praying can help us singles see a situation clearly, because the Holy Spirit wants to guide us in making wise decisions. When faced with a serious dilemma, we can ask God: "What does Jesus want me to do?" "What biblical principle will help me decide?" "What are all the possible consequences of this, and will they honor Jesus?"

Yes, God forgives sin, but we have to live with the earthly consequences. How many people wish they had prayed and reflected before they got drunk, shot up, or committed a crime?

Pray. Consult God first. Then obey him! His way is always best.


---
Are you sabotaging your prayers?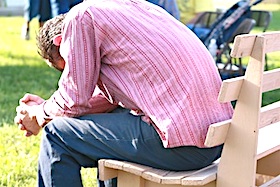 If you feel praying has become a waste of time, you may need to look at how you're going about it. The short checklist in this article will help you uncover your motives.

Check out these ways you can sabotage your own prayers and the accompanying article on why prayer is so frustrating.

---
Finding the courage to be single
It takes courage to be single. Job pressures are intense. Violence is scary. And relationships? Oy!

Being single has always had its unique problems. The ostracism is not as great as it once was, but in some social circles, and in countries with strict family values, the unmarried man or woman is still looked upon as being abnormal.

For us single believers, it's vital to know help is always available from God. We can't live the Christian life on our own might, and we were never meant to. We need to lean on Jesus. What's exciting is He wants it like that.

Communicating with Jesus should be a natural, constant thing. I don't mean you should talk out loud to God in the grocery store, but we can do it when we're home alone. It brings a focus to our prayers. God feels more real, right there with you.

God supplies us with courage as we step out and obey him. Trying to be brave all alone is like trying to raise yourself up by your own bootstraps. It's easier to be bold when you know you have the King of the Universe on your side.

God is real. He's eager to empower you. Seek Him. Ask Him for courage. Then live it.
Not shy about visiting
March saw a 20% spike in visitors to www.inspiration-for-singles.com. Another web site linked to my page on shyness, but unfortunately my tracking software didn't pick up on who it was. Anyway, if shyness is a problem for you, I offer a f'ree ebook called How to Beat Shyness on that page.

You should also know comments are always welcome on this newsletter. Use our unhackable contact form and I'll email you a personal reply within three days. And yes, it will really be me, not some smart-alecky AI-bot.

I hope you had a blessed Easter. Spring is here and summer's just around the corner. The future is bright, too, for friends of Jesus.

Be well, single friend, and God Bless!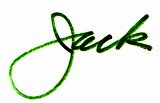 Jack Zavada
PS: Not a Christian? Find out how to become one!