Inspiration to help you thrive in the single life!
You're receiving this free ezine because you signed up for it at www.inspiration-for-singles.com--which proves how smart (and good-looking) you really are!
If you like Inspire-O-Gram, please forward it to your friends.
If a friend did forward it to you, please sign up for your own free subscription at: Inspire-O-Gram


---
Issue #012, March 22, 2007
Welcome to the March issue of Inspire-O-Gram, the ezine that helps you thrive in the single life.
The theme of this issue is control. That may seem like an odd topic, but how you deal with control as a single person can have a major impact on your happiness and peace of mind.
Our first article deals with the all-too-familiar scenario of feeling that life is overwhelming and out of control. We all go through that. Here are some tips to help you regain control...
Maybe you're on the other end of the control spectrum. Maybe you're a control freak. If you like to micromanage every aspect of your life, and other people's too, here are some thoughts on the disadvantages of being a control freak...
This month's poem is about a fellow who maintains control of his life in a very simple way. I'm sure you've seen him--or somebody exactly like him:
I wear my cap
Price at the pump
makes me feel like a sap,
but I don't go postal,
I just wear my cap.

Some folks get stressed,
they're ready to blow.
I just wear my cap
everywhere I go.

My cap's become a part of me,
It's how I show my dignity.
It's a silent statement
that I've conquered my fears,
like a bumper sticker
sittin' twixt my ears.

I don't like opera,
and I can't stand rap,
but I can sit through 'em both
if I'm wearin' my cap.

I'm a capaholic,
a caparoonie,
I wear my cap
at every opportun'ie.

I wear it to bed,
I wear it to shower,
like Samson's hair,
it gives me power.

In ten thousand years
midst the bricks and stones,
some archaeologist
will dig up my bones.

She'll say, "This discovery
will cause quite a flap,
when they see this mummy
is wearin' a cap!"

Ha! Who says I'm wasting my degrees in English?

Quote time...
This month's quote comes from Dr. Erwin W. Lutzer, one of my favorite preachers, and pastor of Moody Church in Chicago. In his book, How to Say No to a Stubborn Habit, Dr. Lutzer has a great deal to say about control:

I've discovered a new liberty in my Christian life since I have realized that my faith need not be tied to my feelings. We honor God when we walk by faith without emotional supports.
Erwin W. Lutzer
Rut Disruptor
Our Rut Disruptor question is deceptively simple this month:

Is my life controlled by the lies of advertising, talk shows, and peer pressure, or is it controlled by the timeless truths found in the Word of God?

While you're taking a walk in the next couple weeks, leave your iPod at home for a change and seriously think about this question. It might be the turning point in your life that takes you from chasing things to chasing the One Who Loves You Most!
A sneaky sneak preview
I'm working on a major project for www.inspiration-for-singles.com that I hope to finish this summer or early fall.

All I can reveal right now is that it concentrates 40 years of hard-earned life lessons into a format you can use to live a more confident, joy-packed life. That's a sneaky teaser for now; keep watching Inspire-O-Gram for further developments!

I appreciate the encouraging emails you've sent. You can always comment on this newsletter or the site through our contact form.

That wraps up the March Inspire-O-Gram. I hope you enjoyed reading it as much as I enjoyed writing it.

Easter will be here soon. I hope yours will be the happiest, most meaningful ever.

Nothing spells HOPE like the Resurrection of Jesus Christ,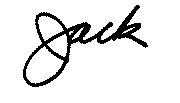 Jack Zavada
www.inspiration-for-singles.com
401 Indiana Ave
Streator, IL 61364 USA