---
January 13, 2015 Issue #106
How to avoid rearview living
One of my goals for www.inspiration-for-singles.com is for you to learn from my mistakes in the single life, and I've made some doozies.

In our kickoff issue for 2015, we're going to cover one of the worst mistakes I made, what I call rearview living. You're all familiar with the rearview mirror in a car that lets you see what's behind you. Today, some cars even have rearview cameras that show what's in back of you when you're driving in reverse.

Rearview living is paying more attention to your past than to your present and future. For too many years, I held myself back by concentrating on mistakes I had made, failures, and other people's opinions of me. They shaped my perspective on life so strongly I couldn't make much progress.

That's a real danger for single people. We get this image of ourselves based on past experiences--many of them inaccurate--and it limits how we respond to opportunities.

Whether it's old fears, old prejudices, or old habits, we need to focus on the road ahead if we want to get where we want to go.

Yes, we should learn from our past so we don't repeat the same mistakes, but being intimidated by it is like dragging a big anchor behind your car. Not very wise.

So let's look at what I did wrong, how I came to my senses, and the take-away for you, so you can avoid rearview living…


---
Better Days Ahead
Life can be a dullish gray
if that's what you expect.
We see what we are looking for
and miss what we neglect.

But hope requires a set of eyes
that see beyond the gray.
That search out every bit of light
and find a brighter way.

When pain and suffering hold you down
and send you to your bed.
Let Christ give you the strength you need.
There are better days ahead.

The past is gone so let it go,
and when those hurts have fled.
You'll seize the future full of faith.
There are better days ahead.

Someday death will claim us all.
But we don't live in dread.
Jesus made a home for us.
There are better days ahead.

~ Jack Zavada, 2015 ~

---
January Quotation from Robert H. Schuller
January's Quotation of the Month comes from Rev. Robert H. Schuller, retired television pastor, author, and founder of the Crystal Cathedral in Garden Grove, California:

Let your hopes, not your hurts, shape your future.
~ Robert H. Schuller (1926- ) ~

That's good advice. Our hurts can make us fearful, reluctant to be bruised again. We put on a protective armor, but the "helmet" can restrict our vision, and we may not see the good possibilities.

Your hurts are your rearview mirror. Your hopes are your windshield. You conquer when you understand that life lies ahead of you, not behind. Yes, you may have losses, but if you allow them to make you bitter or timid, you shrink your soul.

The apostle Paul had it right: "But one thing I do: Forgetting what is behind and straining toward what is ahead, I press on toward the goal to win the prize for which God has called me heavenward in Christ Jesus. All of us who are mature should take such a view of things." (Philippians 3:13-15, NIV)


---
Renew your hope in 2015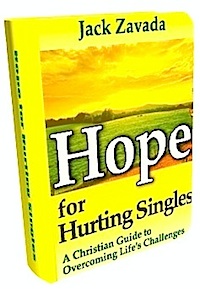 We've all made New Year's resolutions, only to be disappointed when we couldn't keep them. This year, try something better: claiming God's promises.

Hope for Hurting Singles is a Christian ebook that turns to the Bible to remind you of the good things God has in store for you. The Christian life is not about trying harder; it's about accepting the gifts God has already given you.

In this 146-page PDF ebook, you'll find biblical principles to help you tackle such problems as rejection, shyness, depression, fear, and bitterness. But Hope for Hurting Singles isn't a dry pileup of one Bible verse after another. It's a practical, real world guide to changing your perspective to one of hope and optimism.

Yes, a PDF ebook is an unusual way to get information, but it comes quickly and securely directly to your computer, and you can print it out if you prefer reading a paper copy. Even more unusual? Your $9.97 purchase comes with a money back guarantee.

Check out the PDF version of Hope for Hurting Singles or the popular Kindle Version.

---
It's here! The F'REE Jesus Comic Book!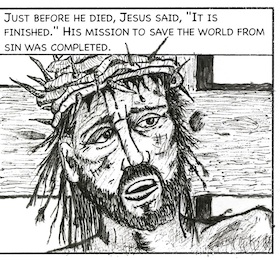 My secret project is finally done and ready for you to download. And the best part is it's F'REE!

The Jesus Comic Book took me nearly nine months to write, draw, ink and edit.

This 10-page black and white comic book tells the story of Jesus Christ in words and drawings. It's great for personal reading for all ages or Sunday school classes. And if you're into coloring, it's a neat project for crayons or colored pencils.

The Jesus Comic Book is true to the Bible, giving a condensed version of the gospel story. If you are not a Christian, this is a fine overview of who Jesus was and what he did for humankind.

On the same page, you'll also find a Missionary edition of the Jesus Comic Book. It has no captions, so you can translate the English Language version of the Jesus comic book into your native language. And yes, it's free too!

Get your f'ree copy of The Jesus Comic Book now!

---
Get excited about the coming year!
Your attitude is so important to how you face the single life. My friend Bob has an outstanding attitude toward life, and this longtime single guy recently had his dreams come true when he got married. He told me, " …life is a 'continuous quality improvement' adventure that I find myself progressing through, and then regressing, and that is why I am very glad that I have a loving God who has unconditional love for me and shows His mercy upon me when I slip up."

We all need to take that attitude in 2015 and beyond. I'm excited about what the coming year may hold. I hope you are too.

I've started a major overhaul of www.inspiration-for-singles.com. I feel revitalized about Inspire-O-Gram and have some super topics planned for the next several months. If you'd like to comment on this newsletter or the site, please use our easy-peasy contact form.

Our God is good, and he loves you.

Please stay with us for 2015 and tell your single friends to subscribe to Inspire-O-Gram too. It's going to be an amazing year.

God's blessings on you,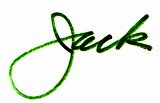 Jack Zavada
www.inspiration-for-singles.com
401 Indiana Ave
Streator, IL 61364 USA