Hope for Hurting Singles


is the book you've been looking for!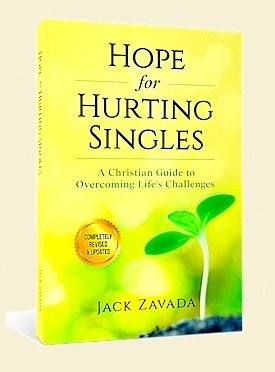 Your life could be better. You know that. But what should you do? What steps can you take to turn things around?
Hope for Hurting Singles shows you step-by-step how to start where you are and build a happier, more confident life as a single person. This new paperback is a travel guide for the road you're on – by somebody who has already been there and tells you what to expect!
Trustworthy guide
Jack Zavada*, creator of this web site, has 40 years' experience as a single person. He has been through the emotional ups and downs you're facing now and will face in the future. He admits he made some dumb, harmful choices in his past, but he also acted wisely many times. Now he shares all those important lessons with you in Hope for Hurting Singles.

You'll learn how to overcome the challenges of:

Loneliness

Depression
Frustration
Bitterness
Rejection
Shyness
Fear
You'll overcome destructive thinking
Jack will introduce you to the techniques of Cognitive Behavioral Therapy, a proven way to eliminate self-destructive thinking. This simple method of looking at your life helps you recognize patterns that are holding you back and gives effective ways to change them.
Hope for Hurting Singles is solidly biblical. You'll rediscover the passionate love God has for you. You'll learn from the Bible that Jesus experienced many of the feelings and disappointments you're going through. Best of all, you'll see God has not cursed or abandoned you but is eager to help you in every life situation.
Table of Contents of Hope for Hurting Singles
Chapter One: Turn Your Loneliness into Solitude
Chapter Two: Break the Chains of Shyness
Chapter Three: Come Back from Rejection
Chapter Four: Find Hope in the Midst of Depression
Chapter Five: Look in the Right Place for Self-Esteem
Chapter Six: Take Back Your Life from Fear
Chapter Seven: Get Past Frustration and Bitterness
Chapter Eight: Make Peace of Mind Your Goal
Chapter Nine: See Faith as Key to the Single Life
Chapter Ten: Use Hope to Rise Above Your Hurt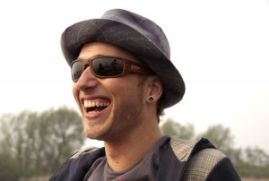 Why go through pain and confusion when you can avoid them? Find out what works and what doesn't work. Be a smarter single. Find hope that will make you glad to get out of bed in the morning.

Hope for Hurting Singles is only $10.99 from amazon.com.
---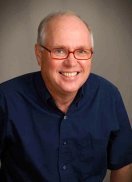 *Through www.inspiration-for-singles.com, his ebooks, and other writings, Jack Zavada has helped single people in more than 150 countries lead more fulfilling lives. Read his short biography to see why he's qualified to write this helpful new book...
---
Return to top of Hope for Hurting Singles page.