How to understand yourself. How to understand others.



Where does your loneliness come from? Your depression? Your fear?
Why are some people cruel and selfish while others are kind and generous?
Jack Zavada's books not only explain your emotions, they give you time-tested advice for responding to problems in the most constructive way. He unravels, in common-sense language, why other people act the way they do, and how you can deal with them.
These books will help you understand. They'll guide you toward a happier life...

---
Hope for Hurting Singles: A Christian Guide to Overcoming Life's Challenges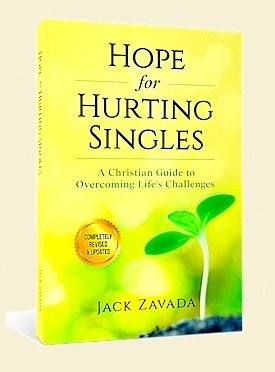 This paperback guide to the single life digs deep into the aggravations that steal your joy and offers real, proven solutions.
Author Jack Zavada took his 40 years of trial-and-error and converted those lessons into an action plan for true, lasting change.
Hope for Hurting Singles shows you how to fix your faulty thinking and replace it with clear-eyed truth. It's for singles who are serious about breaking free from negative patterns and reaching for a bigger, happier life.
Is that you? You can find out by reading the entire first chapter, free, RIGHT HERE.
Hope for Hurting Singles is only $10.99 in paperback at amazon.com.

Special!
Kindle version only $3.99
That's $7 off the paperback price.
---
Outsmarting Loneliness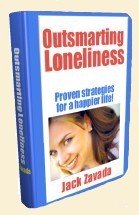 This PDF format ebook was written for singles who need a bit of instruction on how to turn their natural intelligence into their most powerful weapon against loneliness. Jack's four proven Principles will give you options you didn't know you had. Outsmarting Loneliness is so effective it comes with a money back guarantee!
Only $7.97
Format: PDF ebook
Pages: 158
File size: 684 kb


Click this link for information only on Outsmarting Loneliness
                                  NEW!

Click for info on Kindle Edition
---
Single & Sure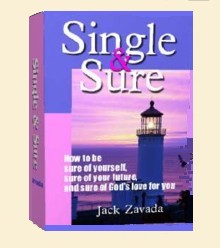 What has Jack Zavada learned in 40 years of being single that can spare you lots of pain?  You'll be surprised at the practical, real-world solutions you'll find to your thorniest problems.  It's a 304-page step-by-step guide on how to become a happier you!
Only $9.97
Format: PDF
Pages: 304
File Size 1.83 MB

Click this link for complete information only on Single & Sure
---
How to Master Your Money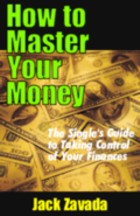 Do money worries have you tied in knots? Then you need How to Master Your Money. Jack used these common-sense principles and retired at age 51. You'll change your outlook on life and change your future. Jack also includes 10 easy ways to save enough--right away--to pay back the cost of this ebook. It's like getting this guide to financial confidence FREE!
Only $4.97
including 4 FREE special reports!
Format: PDF
Pages: 52
File size: 597 kb

Click this link for information on How to Master Your Money
---
Clickbank, our vendor, supports
these currencies:
ARS Argentinean Peso
AUD Australian Dollar
BRL Brazilian Real
CAD Canadian Dollar
CHF Swiss Franc
CLP Chilean Peso
CNY Chinese Yuan
COP Columbian Peso
CZK Czech Koruna
DKK Danish Krone
EUR Euro
GBP British Pound
HKD Hong Kong Dollar
HUF Hungarian Forint
IDR Indonesian Rupiah
INR Indian Rupee
JPY Japanese Yen
KRW South Korean Won
MXN Mexican Peso
MYR Malaysian Ringgit
NOK Norwegian Kroner
NZD New Zealand Dollar
PHP Philippines Peso
PLN Polish Zloty
RUB Russian Ruble
SEK Swedish Krona
SGD Singapore Dollar
THB Thai Baht
TRY Turkish Lira
USD United States Dollar
ZAR South African Rand

---