---
July 21, 2015 Issue #112
Stubbornness keeps many singles from happiness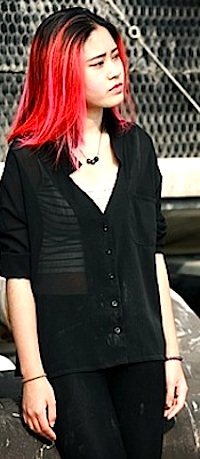 Most of us singles are too stubborn to admit we're stubborn.

Whether it's from pride or insecurity, we don't want to consider the possibility we might be wrong. If we're wrong, then we might have to change, and we like ourselves just the way we are, thank you very much!

Except we don't always like the way our life is going.

Don't get me wrong. Our lives are not necessarily a result of our stubbornness, but it's possible our treasured eccentricities can be holding us back in some areas.

This month our feature article looks at the causes, varieties, and cures for stubbornness. And while I'm a big fan of perseverance in spite of tough odds, I also believe it's important to keep an open mind and change your approach if what you're doing isn't working. I think that's a worthwhile lesson for singles to learn.

The key is to be stubborn about the right things. But how do we choose? How do we sort out the world's shouting and find a reliable guide for our convictions and values? Well, you'll have to read the article to find out!

So plump up your air bag and let's drive into the land of singletons and stubbornness.


---
I'm a stubborn guy
I'm set in my ways,
I'm a stubborn guy.
I'll listen to reason
on the day that pigs fly.

I've held my opinions
since 'Seventy-two.
They make no sense
but that's what stubborn guys do.

Mules and bulldogs
got nothing on me.
'Cause I'm as stubborn
as stubborn can be.

No, I'll never change;
I don't know how.
That's too much for my little
mind to allow.

I'll keep being stubborn
'til I'm six feet under.
But I'll never admit
that my views were a blunder.

I'm thick as a tree trunk
and that's no lie.
Don't argue with me;
I'm a stubborn guy.

~ Jack Zavada, 2015 ~

---
Nido is July's quotation superstar
July's quotation of the month comes from Nido Qubein,Christian businessman, author, and president of High Point University, High Point, NC:

Change brings opportunity.
~ Nido Qubein (1948 - ) ~

Sometimes change happens in circumstances; sometimes we have to make changes in ourselves to bring the opportunity we want. Each of us needs to examine our stubbornness. Is it hurting me? Is it hurting others?

Self-examination is always hard. I know I've had a difficult time with it all my life, especially when I was in my 20s and 30s. As I got older and realized my worth comes from God, not myself, I have questioned my stubbornness on many issues. I have changed and am happier for it.

Don't let your own stubbornness endanger you. If your ship is sinking, be ready to throw unnecessary cargo overboard to survive. Bigotry, pride, grudges, resentment, anger--they've all got to go. God can help you identify and jettison them. Change yourself and you'll change your life.


---
If it's not practical, forget about it!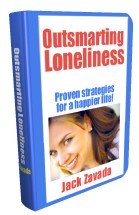 You wouldn't buy a hammer made out of marshmallow. Then why try to fix your loneliness with advice that's all fluff?

Outsmarting Loneliness is real world, practical, and solution-oriented. This ebook examines the core causes of loneliness then provides workable strategies to address them. No fluff here, folks.

Loneliness stinks, but you can manage it and minimize it. Outsmarting Loneliness shows you how, in doable steps. What's more, you advance at your own comfort level. Start small, then move ahead as your confidence grows.

Here are a few skills you can master:

* How to stop shyness once and for all;
* How to get a hobby that will help you make friends;
* How to decide whether to get a pet;
* How to avoid 'irresponsibles' who will drag you down;
* How to overcome life's lamest excuse, and much more.

Outsmarting Loneliness is in PDF format and can be read on your computer or tablet device with the F'ree Adobe Reader program.

It's available for $7.97 and comes with a money back guarantee.

For complete info and ordering instructions, go to Outsmarting Loneliness.

---
Here's some summer encouragement!
This month we have an easy-peasy craft project and some great articles to lift your spirits.

Some time back, our F'ree Frameable Bible Verses were popular with Inspire-O-Gram subscribers. This quick download is in PDF format. All you have to do is print the pages, cut the verses out with scissors, and put them in common sized frames you can easily find at the dollar store. (PRINTING TIP: The cover to this PDF has a lot of black in it, so to save toner, skip the cover and start printing at page 2!)

F'ree Frameable Bible Verses Download

Now for those encouraging articles:

Why Me? Searching for Meaning in Suffering

How to Solve Your Problem With God

The Christian Response to Disappointment

---
Here's the link to 100 inspirational poems!
Since Inspire-O-Gram first came out in 2006, every issue has contained an original inspirational poem. If you enjoy them, you can visit the back issues and read them all! Here's the link:

Inspire-O-Gram back issues

This issue about stubbornness may have been one of the more difficult for some subscribers, but I hope you found it helpful. Always remember, God loves you and none of us is perfect, especially me. Becoming the person God wants you to be is a lifelong process and doesn't end until you get to heaven.

My goal for www.inspiration-for-singles.com and Inspire-O-Gram is to guide you toward emotional and spiritual maturity. But since I'm still learning myself, some of the lessons are as fresh as a few weeks ago.

If you have any comments, suggestions, or complaints, you can send me an email using our odor-free contact form.

Summer's slipping away, and the July issue has already slipped! Until we meet again in August, love God, love yourself, and enjoy your life!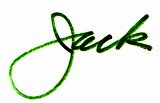 Jack Zavada
www.inspiration-for-singles.com
401 Indiana Ave
Streator, IL 61364 USA