---
June 23, 2015 Issue #111
Is singleness a curse?
Even though there are hundreds of articles on the Web answering this question, I'd like to take a crack at it because I have a perspective born of experience:

God does NOT curse His children, but we, through our own attitude, have the ability to curse ourselves.

God makes a convenient scapegoat. I should know because I blamed him for my singleness for many years. Of course, that's an insult to God, but thankfully you and I are so limited in understanding what's going on in our lives that God forgives us for that, just as forgives all our sins.

I made the same mistake as every other person who believes singleness is a curse, but I want you to avoid doing what I did. And if you're already doing it, I want to show you how to stop.

This may be a painful article for many, but pain is a sign there's a problem. Following God's guidance, we can each fix this problem and get on to happier living.

So let's be grown-ups and explore the question, "Is singleness a curse?"


---
While there is life
How many times has your candle grown dim
to an ember just barely alive?
How many times has it almost gone out
then flicker to flame and survive?

How many times has a smoldering ash
erupted again into fire?
How many times has your hope grown dim,
just to surge and rise up even higher?

Hope doesn't depend on the effort you make,
or the skill you put forth to win.
Nothing else matters when you're staking your life
but the One whom you put your hope in.

Never surrender as long as you live,
never give in to the pain.
Never quit hoping you'll get what you want,
keep thinking of what you will gain.

With Him there is life, eternal life,
He'll give you the power to cope.
Life goes on forever so never give up,
for while there is life there is hope.

~ Jack Zavada (2015) ~

---
Watchman Nee supplies June's quotation
For June's jolt of wisdom, we turn again to Watchman Nee, a Christian church leader and teacher in China in the early 20th century:

Actually, only God can satisfy a Christian's heart; man cannot.
~ Watchman Nee (1903-1972) ~

Let's unpack the three-fold wisdom of this statement. First, a spouse cannot satisfy a Christian's heart, contrary to singles' popular belief. If they could, no one would get divorced. Even in happy marriages, Christians still need to put God first.

Second, nothing produced by man can satisfy a Christian's heart, from material possessions to books and movies to sports to money. Things produced by man cannot satisfy the hunger put there in us by God, for Himself.

And third, no Christian man or woman can satisfy their own heart. Self-help is a lame substitute for God-help. We can't make ourselves right, despite all our trying. Positive thinking won't do it; yoga and meditation won't do it.

One of the great secrets of life is that only God can satisfy a Christian's heart. I have wasted much time looking in other places, and every so often, after a disappointment, I have to learn this lesson again. If you are honest with yourself, you will learn this same lesson too.


---
Treat yourself to an attitude adjustment!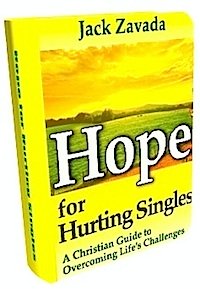 Many years ago, when I worked for the Central Illinois Light Company, the electric utility in Peoria, Illinois, a bunch of us would visit a local watering hole occasionally for what my coworker Vicki called, "An Attitude Adjustment."

Since I'm a teetotaler, I drank soda while my friends drank beer. We commiserated about work and usually left with a healthier perspective--we were all happy to have a steady paycheck.

Maybe you need an attitude adjustment about the single life. My ebook, Hope for Hurting Singles, can help.

Hope for Hurting Singles is a 146-page ebook in PDF format. When you purchase it, you'll be reading it on your computer within minutes. It's only $9.97 and comes with a money back guarantee. There's also a Kindle version.

You'll find real world advice to help you rise above:

* Loneliness,
* Shyness,
* Rejection,
* Depression,
* Low self-esteem
* Fear,
* Frustration and bitterness.

Your life really can get better. Make the changes I made. Find out how with Hope for Hurting Singles.

---
The sweetest thing on Earth--and in Heaven, too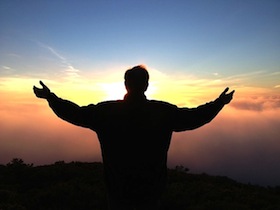 Because I believe we can never hear often enough about how much God loves us (and because I'm the Boss Man of this newsletter), our June bonus feature reminds you how much God loves you, single friend. Enjoy!

Though our feelings come and go, God's love for us does not.
C.S. Lewis

God loves each of us as if there were only one of us.
Augustine

We are not built for ourselves, but for God. Not for service for God, but for God.
Oswald Chambers

You are not what others think you are. You are what God knows you are.
Shannon L. Alder

To fall in love with God is the greatest of all romances; To seek him, the greatest adventure; To find him, the greatest human achievement.
Raphael Simon

When the time comes for you to die, you need not be afraid, because death cannot separate you from God's love.
Charles Surgeon

God loves us too much to indulge our every whim.
Max Lucado

For I know the plans I have for you, declares the LORD, plans for welfare and not for evil, to give you a future and a hope.
Jeremiah 29:11

God is love. He didn't need us. But he wanted us. And that is the most amazing thing.
Rick Warren

Here's the paradox. We can fully embrace God's love only when we recognize how completely unworthy of it we are.
Ann Tatlock

God will look to every soul like its first love because He is its first love.
C.S. Lewis

---
Oy, this single life! What's a person to do?
As I write this, a severe thunderstorm is raging outside. Louie, my dog, has just sneaked out of my office to hide under my bed. And there, my friends, is a mini-parable of what the single life is sometimes like.

When things are going badly, we all feel like hiding under the bed. Or at least under the covers. Lots of "sophisticated" singles (hint: unbelievers) cope with hard times with alcohol, drugs, or s'ex. They think they're mature, but when has shallowness ever been mature?

You want real help? Go to God. There are no harmful side effects, and you won't feel lousy in the morning. There is nothing--absolutely nothing--as great as Jesus!

We covered some pretty heavy stuff in this month's Inspire-O-Gram. I'm curious about your reaction to this issue. You can email your bouquet or brickbat to me using our deep-fried contact form.

There's your June issue, fellow singleton! If you want to learn more about Christianity, kickstart your keyboard and travel to www.christianity.about.com, where you'll find tons of interesting stuff.

I hope you're enjoying your summer, or winter, for our friends Down Under. Until July, keep the faith!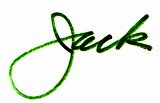 Jack Zavada
www.inspiration-for-singles.com
401 Indiana Ave
Streator, IL 61364 USA