---
November 18, 2014 Issue #104
Knowing why life is not fair can
take some of the sting out of it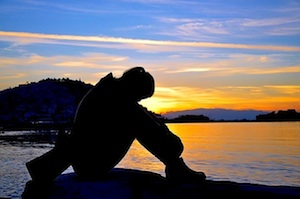 "Why are other people happily married but not me?"

I asked myself that question for decades. It was more proof that life is not fair. For a long time I blamed God, wondering what he had against me. I was a faithful Christian. I did all the right things. Boy, did I do all the right things.

Maybe you feel the same way. Experiencing life's unfairness can get you down. It can make you feel as if you have a target on your back. It pushes you into depression and discouragement.

Over the years, my personal experience and Bible study have led me to some simple answers. I don't always like what I find out, but if it agrees with Scripture, I try to share it with you.

This month's article tries to explain why life is unfair. I realize it's an answer many people will not accept, but we have to see things from a larger perspective: God's.

Please read the piece slowly, think about it, and let it settle in. I think after a week or two, you'll agree it makes sense. Then, try to decide how you can use this information to adjust your view of reality.

Use it to prepare yourself for the next unfairness that comes along, because I can assure you, it will. Take a look at why life is not fair.


---
God still loves me
When sorrow rips my life apart,
I follow what I feel.
Or should I turn the other way
and cling to what is real?

Emotions try to take control
and tell me to despair.
But I can take the wisest path
and go to God in prayer.

He promised tribulation
as the price we have to pay.
But I show weakness when it comes.
I want to run away.

Instead I hold tight to this truth
that sets my spirit free:
No matter what the heartache is,
I know God still loves me.

I know God still loves me
when sadness fills my soul.
I know God has the power to heal,
that He can make me whole.

I know God still loves me
and won't let me be lost.
I know it from His holy Word,
I know it from the cross.

I know God still loves me
despite how things appear.
He gives me hope to live each day
He saves me from my fear.

~ Jack Zavada, 2014 ~

---
November's Quote comes from John Piper
For this month's quote, we turn to John Piper, founder of Desiring God ministries, pastor of Bethlehem Baptist Church in Minneapolis, Minnesota, and author of more than 50 books:

This is God's universal purpose for all Christian suffering: more contentment in God and less satisfaction in the world.
~ John Piper (1946- ) ~

Being single brings with it a lot of disappointment, as you know. We chase one thing after another, looking for the fulfillment we're missing in marriage. Highly intelligent, introspective people (and that's who I believe readers of this newsletter are) eventually find that career, money, fame, and possessions don't satisfy.

Suffering, whether in the form of dashed expectations or physical or mental problems, is a lonely cross to bear. The encouraging news is that our Lord knows about crosses. When he tells us ""If anyone would come after me, he must deny himself and take up his cross and follow me," we can be sure he will help us carry our cross.

Over many years, we learn that Jesus understands. He gets it. We are no longer satisfied by the illusions of this world but find our contentment in him instead. That's what spiritual maturity is all about.


---
If you're hurting, here's hope for you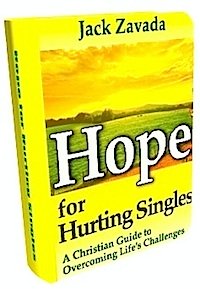 You know what you want, but you can't seem to get it. That's a constant source of frustration, and it can lead to anger and depression.

Hope for Hurting Singles, an easy to follow ebook, offers encouragement based on the real world. You'll see how to deal with self-esteem, rejection, depression, fear, and bitterness. You'll also get a roadmap for lasting peace of mind.

A unique feature of Hope for Hurting Singles is its practical, real-world approach. This 146-page ebook is in PDF format and is only $9.97.

If you're one of the millions of people who own a Kindle ereader, now there's a Kindle version too! Check it out at Kindle edition of Hope for Hurting Singles.

---
Jack's f'ree plan to get a jump on trouble!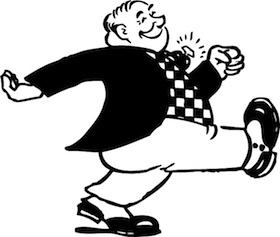 No, I'm no genius, but I do have an age advantage over most of you, which means I've already gone through some of the trouble you're going to experience in life.

Don't think you'll have any trouble? I laugh! Ha!

Seriously, though, one of my goals with inspiration-for-singles.com and these newsletters is to help you avoid the mistakes I went through, and to pass on some valuable lessons I learned.

This article will take you less than 10 minutes to read, yet it can save you a trainload of misery years from now. It outlines simple, doable steps to prepare yourself for life's disasters. It's called adversity is inevitable.

Continuing our theme that life is unfair, here are some relevant quotations:

Faith gives you an inner strength and a sense of balance and perspective in life.
Gregory Peck

What God chooses for us children of men is always the best.
Karl Barth

I'm just thankful for everything, all the blessings in my life, trying to stay that way. I think that's the best way to start your day and finish your day. It keeps everything in perspective.
Tim Tebow

God won't light your second step until you have taken the first one.
Woodrow Kroll

Perspective is everything when you are experiencing the challenges of life.
Joni Eareckson Tada

Faith is a refusal to panic.
Martyn Lloyd-Jones

My children have absolutely no interest in my fame. They're very sophisticated, and they have a spiritual perspective on material things because we go to church.
Val Kilmer

Few people seem to realize that the resurrection of Jesus is the cornerstone to a worldview that provides the perspective to all of life.
Josh McDowell

---
Find the positive and give thanks for it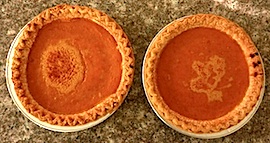 In this newsletter, I hope you found the two takeaways: We can't confuse life with God, and our response to our circumstances can raise us above our circumstances.

That's why, as we approach Thanksgiving Day in the United States, all of us singles can find something positive in our life and give thanks for it. The positive things are like rungs on a ladder. Each one helps us climb out of our depression.

Work is winding up on my "secret project," something I think you'll find fun, informative, and inspiring. God willing, I'll be able to offer it to you F'REE in the December Inspire-O-Gram.

I rely on you, the loyal readers of this newsletter, to tell others about it and the web site. If you find this of benefit, tell your friends and relatives or forward this newsletter on to them. As always, I welcome your comments. You can email them to me through our contact form.

Thank you again for reading. The Christmas season will soon be upon us, a difficult time for many singles. I hope to have some help in the December newsletter that will encourage you to put that into perspective as well.

Until then, talk to God as if he is right there in the room with you--because He is!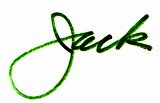 Jack Zavada
www.inspiration-for-singles.com
401 Indiana Ave
Streator, IL 61364 USA