Inspiration to help you thrive in the single life!
You're receiving this free ezine because you signed up for it at www.inspiration-for-singles.com--which proves how smart, good-looking, and debonair you really are!
If you like Inspire-O-Gram, please forward it to your friends.
If a friend did forward it to you, please sign up for your own free subscription at: Inspire-O-Gram


---
Issue #018, September 19, 2007
Woo-hoo! It's finally here. Single & Sure, that is, my new ebook I've been telling you about for months.
Single & Sure is all brand new material, but takes the same real-world approach as inspiration-for-singles.com. And, you can even download and read an excerpt and the Table of Contents absolutely f'ree!
To get the full story, visit Single & Sure...
September's Inspire-O-Gram tackles the problem of doubt.
Feeling guilty doesn't help. Neither does trying to ignore the problem. You can make progress only when you face your doubts...
Odds are that if you doubt God, you also doubt yourself. Here's a way to deal with self-doubt...
Well, to lighten things up a bit, I wrote this month's new poem on--you guessed it--doubt:
Oh, I doubt it
I thought I did,
but I didn't.

I know what to do,
but I don't.

I thought that maybe
I might reconsider,
but on second thought
I think that I won't.

I'm undecided
about indecision.
I wish I could see far ahead.
But even if I possessed X-ray vision
I'd rather be certain instead.

So I waffle and waver
and never get braver,
'til it's enough to make you
wanta shout.
I'm fully persuaded
and have never evaded
that the only thing
I'm sure of is doubt.
Quote time...
September's quotation comes from the prolific pen of Theodore Ledyard Cuyler, a Presbyterian pastor in the state of New York (1822-1909). Cuyler was active in the American religious revival of 1858, and wrote more than 3,000 articles and several books. His autobiography, Recollections of a Long Life, is available for free at Project Gutenberg:

"Every step toward Christ kills a doubt. Every thought, word, and deed for Him carries you away from discouragement."
Theodore Ledyard Cuyler
Rut Disruptor
This month's Rut Disruptor question is a short but important one:

Have I been ashamed to admit my doubts to Jesus?

Every Christian who has an active mind experiences doubt. We make fun of "Doubting Thomas" the apostle, but the truth is that none of Jesus' disciples believed Mary Magdalene's news that he had risen from the dead, until they saw him themselves. Doubt is not sin. It's the sign of an intellect determined to know the truth.


Want to comment?
That's it for September's Inspire-O-Gram. I hope you found something worthwhile in it.

I always appreciate your comments about this newsletter or www.inspiration-for-singles.com. You can email me using this handy-dandy contact form.

Thanks again for reading, and please do consider Single & Sure. I sincerely believe that it will help you thrive in the single life!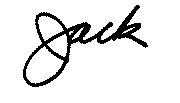 Jack Zavada
www.inspiration-for-singles.com
401 Indiana Ave
Streator, IL 61364 USA