---
April 26, 2016 Issue #121
Being fed up with hurting gives you an opportunity to change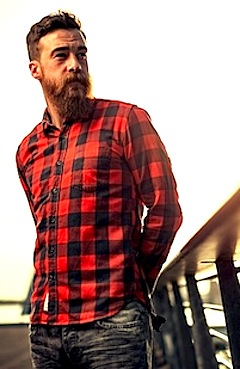 I know many of you are fed up with hurting. It's been going on for years as a dull ache and you've had enough. You want it to stop.

At some point singles come to life's most important fork in the road. The path you choose can lead either to ultimate fulfillment, or more of the same hurt.

Look around. Millions of people have chosen the path of substance abuse. They want the hurting to stop so they choose alcohol or drugs to numb it. Maybe you're one of them. I sincerely hope not. This is the path that descends into even deeper suffering.

In this month's feature article, we're going to explore the other path. It leads to meaning in life, answers to your nagging questions, and a sense of contentment you never thought possible. It's the path I chose decades ago. I want you to travel it with me.

This is not a "How to be happy in 5 easy steps" self-help lesson. It's a hard-headed, real-life look at the facts, the way things truly are. Sometimes I've found this path scary, but I've stuck with it. It works.

Life will never be entirely pain-free. Despite that, there's a wise way to go. Travel it with me if you're fed up with hurting.


---
Keep going
Life can be stinky, a mind-numbing mess,
a big bag of trouble
with worry and stress.
But rather than let it
disgust and depress,
keep going.

It's a sin-stained world, disappointment is high,
with commercials still promising
pie-in-the-sky;
Ovens that bake, dehydrate and fry.
Keep going.

Fear's like an anchor that slows your ascent,
a rock in your shoe,
a leak in your tent.
But it can't stop you
unless you give your consent.
Keep going.

Keep moving ahead and don't look back,
you can't change the past
with a counterattack.
Keep your eye on heaven
and your foot on the gas.
Keep going.

You can get through anything with God at your side,
chemotherapy or a carnival ride,
layoffs and playoffs and life's ups and downs,
breakups and makeups and scary old clowns,
any obstacle that stands in your way.
God's still in control at the end of the day.
So keep going.
Keep on going.

~ Jack Zavada, 2016 ~

---
The Message author has April's quotation
For April's Quotation of the Month, we turn to Eugene Peterson, retired pastor, teacher, and author of the popular Bible interpretation, The Message:

One way to define spiritual life is getting so tired and fed up with yourself you go on to something better, which is following Jesus.
~ Eugene H. Peterson (1932- ) ~

Someone once said human beings are a curious species. The more lost we get, the faster we run. That describes today's culture. So many are lost, and they run to their phone, binge-watching TV, endless web surfing, and every other fad to avoid reality.

Doesn't it all get so…tiresome?

Following Jesus is countercultural. It's so nonconformist his people are called insulting names. Jesus predicted that. The herd doesn't like it when some of its members don't fit in.

Don't be a herd animal. Want something better for yourself, something deeper. Investigate Jesus Christ for yourself. You deserve to know the truth.


---
News flash! Jack admits he's "not so smart"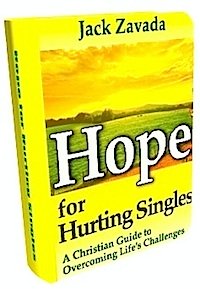 I'm not so smart. It took me years of trial and error to learn what I should NOT put my hope in. Buying stuff, personal achievements, money, recognition. They all disappoint, eventually. They're hollow dreams.

Even other people are fallible. They can let you down.

What works? God. So spare yourself the dumb mistakes I made and get right to the solution. Get my ebook, Hope for Hurting Singles.

You can read it on your computer, tablet device or phone, with the f'ree Adobe Reader software.

This 146-page PDF download will help you clarify your purpose in life. You'll overcome that blah feeling and find new enthusiasm. Best of all, you'll put past disappointments in perspective so you'll be able to face the future with renewed passion.

Hope for Hurting Singles tackles the problems of


* Loneliness,
* Shyness,
* Rejection,
* Depression,
* Low self-esteem,
* Fear,
* Frustration and bitterness.

It's only $9.97 in PDF format, and it's now available for Kindle as well!

Get all the information at Hope for Hurting Singles.

---
Quotations on overcoming
I'm looking at a paperweight on my desk, a common rock with a saying carved into it: "You Can Do It." Sorry. It should say: "You and God Can Do It."

We can't accomplish much on our own. We're bumblers and fumblers. Oh, we manage some human accomplishments, but the really important stuff, the things that have eternal value, take God's help.

Here are some quotations on overcoming to lift you up:

Above all the grace and the gifts that Christ gives to his beloved is that of overcoming self.
Francis of Assisi

Victory is never won alone.
Woodrow Kroll

Nine-tenths of the difficulties are overcome when our hearts are ready to do the Lord's will, whatever it may be. When one is truly in this state, it is usually but a little way to the knowledge of what His will is.
George Mueller

The first step on the way to victory is to recognize the enemy.
Corrie Ten Boom

In times of affliction we commonly meet with the sweetest experiences of the love of God.
John Bunyan

When God speaks, oftentimes His voice will call for an act of courage on our part.
Charles Stanley

God never promises to remove us from our struggles. He does promise, however, to change the way we look at them.
Max Lucado

Outside of Christ, I am only a sinner, but in Christ, I am saved. Outside of Christ, I am empty; in Christ, I am full. Outside of Christ, I am weak; in Christ, I am strong. Outside of Christ, I cannot; in Christ, I am more than able. Outside of Christ, I have been defeated; in Christ, I am already victorious. How meaningful are the words, "in Christ."
Watchman Nee

---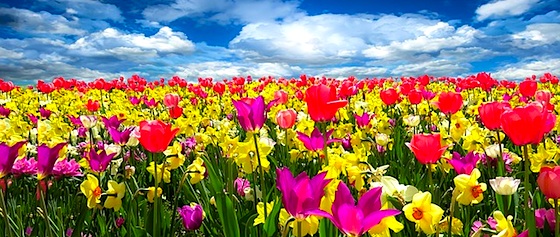 Check out one of my favorite advice programs
Nearly every Saturday morning, I listen to a terrific radio program called "Healing, Hope, and Restoration," presented by The Antioch Group, a Christian counseling practice based in Peoria, IL.

The co-hosts, Rev. Howard Love and Tiffany Mack, are both licensed counselors who offer sound psychological advice backed by the Bible. You can listen to past broadcasts here: Antioch Group. Check out the August 8 and 15, 2015 programs on "Being Single."

Spring has come to where I live, and it's a treat to see the beauty God has blessed us with. I hope you're enjoying nature near your home. The changing seasons remind us that God is working. Something as intricate as our universe doesn't run on its own. The same Creator is in love with you. That's something to think about every time you see a flower or gorgeous sunset.

If you care to comment on this newsletter or www.inspiration-for-singles.com, just use our pesticide-free contact form or email me at jack@inspiration-for-singles.com.

That winds up our April newsletter. Until our May issue, fellow singleton, walk with God--and skip along with Him if you feel like it!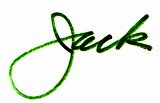 Jack Zavada
www.inspiration-for-singles.com
401 Indiana Ave
Streator, IL 61364 USA