---
August 16, 2016 Issue #125
Break free from what's holding you back
Memories are wonderful things. They're also terrible things.

Good memories give us strength and build our self-esteem. Bad memories, on the other hand, hold us back. They have a tendency to make us afraid to try new things. We don't want to repeat the mistakes of the past.

All of us singles have bad memories. That's part of living in this world, where people often do the selfish thing instead of the right thing.

Whether it's bad memories or bad habits, there's probably something in your life you want to break free from. You've tried, but you haven't been able to in the past. Maybe you've tried several times without success.

This month's feature article has some tips on how to break free. I had to do it myself, several times. When you live alone, you tend to replay bad memories far too often. Smashing the grip of bad memories is hard work. The hardest. Some people think it's too hard, but I don't believe that.

So take a look at your life, especially bad memories. You can't erase them, but you can see them in a new perspective. You can leave them in the past, where they belong, so they don't ruin your present and future.

Check out these thoughts on how to break free.


---
Square peg
My weight is wrong,
I'm way too short.
Sometimes when I laugh
I let out a snort.
I can't afford those
designer clothes
or a nip and tuck
to adjust my nose.

I'm a square peg
in a round hole.
I'll never win
a popularity poll.
But I know where I'm going
and I see my goal.
Yeah I'm a square peg
in a round hole.

Don't have big hair
or a movie star smile.
My teeth look like
a crocodile's.

The beautiful people
think I'm a troll.
I'm a square peg
in a round hole.

I'm a square peg
in a round hole.
To be like Him,
Yeah that's my goal.
He didn't fit in
but He saved my soul.
He was a square peg
in a round hole.

I wanna be a
square peg
in a round hole.

~ Jack Zavada, 2010 ~


---
August's quote comes from The Man in Black
August's Quotation of the Month comes from Johnny Cash, country music singer and songwriter, TV star, author, and committed Christian:

You build on failure. You use it as a stepping stone. Close the door on the past. You don't try to forget the mistakes, but you don't dwell on it. You don't let it have any of your energy, or any of your time, or any of your space.
~ Johnny Cash (1932-2003) ~

I wish I had learned when I was young not to take failure so personally. I had a lot of failures. Many times I had read that failure is something that happens, not something you are. I wish I had taken that to heart too.

But you can learn from my mistake. Don't take your failures so personally. Like Johnny Cash, use them as stepping stones to what you want to achieve. When you're learning by trial and error, you can't see the errors as bad because each one brings you closer to your goal.

Starting today, when something bad happens, ask God, "What do you want me to learn from this?"


---
Who's running you? You or your money?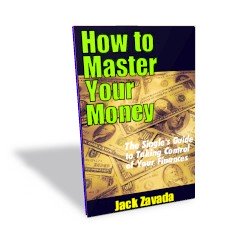 When your money is in charge of you, it's not good. In fact, it's miserable. Debt makes you a slave. You never seem to have enough and you can't figure out why.

Master Your Money isn't about complicated systems and get-rich-quick schemes. It's about attitude--and the inside secrets that get you to spend.

One of the most worthwhile secrets you'll learn in this 52-page ebook is the subtle ways stores and commercials manipulate you into buying, even when you don't want to. You'll be able to resist their tricks and keep more money in your pocket. You'll cut through the hype and advertising to make wise purchases at the best price.

Master Your Money yanks you off the treadmill of trying to impress others and puts you on the path of thoughtful spending.

What you won't find are boring charts and financial mumbo-jumbo. This is practical, down-to-earth advice, written in a conversational style.

Because I'm a world class bargain hunter, I priced this PDF format ebook at only $4.97! That's cheap, and it comes with an 8-week money back guarantee.

Get all the details on Master Your Money.


---
Whoa! Nuggets of wisdom about change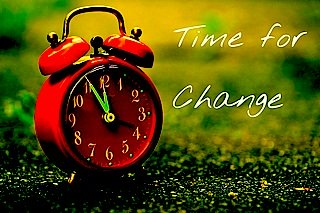 We change our sheets. We change our socks. We even change cars. So why can't we change ourselves?

Well, maybe we have the mistaken notion that if we change ourselves, we might lose ourselves in the process. Here's the secret: When you ask God to change you, he keeps the best and throws away the rest!

Let these quotes soak into your brain a while, and maybe change will seem like a friend instead of an enemy:

We have a right to believe whatever we want, but not everything we believe is right.
Ravi Zacharias

Nothing paralyzes our lives like the attitude that things can never change. We need to remind ourselves that God can change things. Outlook determines outcome. If we see only the problems, we will be defeated; but if we see the possibilities in the problems, we can have victory.
Warren Wiersbe

To live is to change, and to be perfect is to have changed often.
John Henry Newman

May we think of freedom, not as the right to do as we please, but as the opportunity to do what is right.
Peter Marshall

If you're going in the wrong direction, turning around is the only right direction.
Woodrow Kroll

Change always starts in your mind. The way you think determines the way you feel, and the way you feel influences the way you act.
Rick Warren

The first step on the way to victory is to recognize the enemy.
Corrie Ten Boom

Every choice you make has an end result.
Zig Ziglar

There is nothing more foolish than an act of wickedness; there is no wisdom equal to that of obeying God.
Albert Barnes

You will suddenly realize that the reason you never changed before was because you didn't want to.
Robert H. Schuller


---
Like coloring? Check out this fre'ebie!
If you enjoy adul't coloring books, you'll want to check out our f'ree Jesus Comic Book.

The comic is drawn in black and white, which means you can use your imagination and your coloring tools to turn it into your own work of art. And while you're coloring, you'll review the story of Jesus' life and how he saves people from sin.

This 10-page Jesus Comic Book. is in PDF format and can be opened with the f'ree Adobe Reader program. Just download, print it out, and color away!

There are no strings attached, no address capture, no sneaky software, and no charges whatsoever. Get your f'ree Jesus Comic Book today!


---
You can't hold onto everything forever
As a guy who lives in a small house, I learned long ago that I can't hold onto everything. Right this moment, I see stacks of books in my home office that need to go. They're outdated and of no further use to me.

I also learned long ago that beating myself up had to go too. Unfortunately, it took me a long, long time to learn that. But learn it I did, and you can too. Trust me, you'll be a lot happier when you stop torturing yourself.

This single life can be a kick in the slats sometimes, am I right? And when you're a single Christian on top of it? Oy! But with Jesus' love we can make it.

I hope this issue had something you can use to be happier and healthier. Life is growth. Life is drawing closer to God.

If your typing fingers get itchy and you have the urge to blast out an email to me, you can use our cellulite-free contact form or email me at jack@inspiration-for-singles.com.

The summer is drawing to a close. It will soon be Labor Day here in the States, with autumn and school just around the corner. It's one of my favorite times of the year. As the weather gets cold, I feel more liking writing, which means lots of new stuff in Inspire-O-Gram in the coming months.

Take care, fellow singleton. Keep the faith!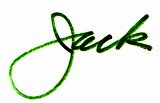 Jack Zavada
www.inspiration-for-singles.com
401 Indiana Ave
Streator, IL 61364 USA