---
February 9, 2010 Issue #047
---
Dateless on Valentine's Day?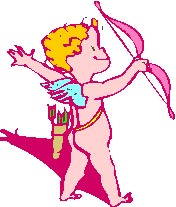 Yipers! That dreaded Valentine's Day is coming up next Sunday. Plenty of kissy-face fun if you have a sweetie, but for many of us, an occasion to scratch our head and ask, "Why not me?"

Well, not to panic fellow singletons. Things could be worse. Trust me.

Rather than running around like it's the end of the world, why not try putting the situation in perspective? Try reading this article I wrote a while back for www.ezinearticles.com on what to do if you're dateless on Valentine's Day...

---
That's what I call love
It hit me unexpectedly.
Oh, it took me by surprise;
It knocked me over backwards,
and it opened up my eyes.

We think we've seen it all,
then we're a teenager again.
Living life dumbfounded
at the feeling that's within.

That's what I call love.
You don't deserve it
but it's there.
That's what I call love;
It's almost more than you can bear.
You are filled to overflowing
with this gift from up above.
It will save your soul forever,
Yes, that's what I call love.

Life is filled with disappointment
in the long and lonely night.
As we struggle for an answer,
only love can make it right.

When you know you're not alone,
in all the things you have to do.
You are filled with hope and courage;
You know love will bring you through.

That's what I call love,
It's the rarest thing on earth.
That's what I call love,
Nothing else can match its worth.
It will fill your life with happiness
and all that you've dreamed of.
If you reach out and accept it,
Yes, that's what I call love.

--Jack Zavada, 2010--



---
February Quote-stravaganza
February's quotation, about God's love, comes from Tony Campolo, professor emeritus at Eastern University, in St. Davids, PA; founder of the Evangelical Association for the Promotion of Education, author of 38 books, and an ordained minister in the American Baptist Church:

God carries your picture in his wallet.
Tony Campolo (1935- )

That's a great way of expressing God's love for you. As Valentine's Day approaches, we singles too often focus on the love we don't have and forget the colossal love we do have.

Yes, I know they're not the same thing and that we have a natural need for human affection, but let's not diminish the soul-satisfying love that only God provides.

Rather than be grumpy on Valentine's Day, why not thank God for Jesus' sacrifice for you, and bask in this love that will be yours for all eternity.

---
One of my substitutes for love...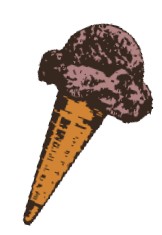 Okay, I plead guilty. I like to eat, and sometimes I use food as a substitute for love. Or at least I think I do. Or maybe I use love as a substitute for food. I get confused.

Anyway, I've never claimed to be a psychologist, but I have been single for a long, long time. I have lots of single friends, and we all do weird things.

As I got to thinking, it triggered these ideas on substitutes for love...

---
"Holy cats! It's a whopper!"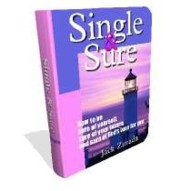 Single & Sure, my first ebook, is a whopping 230 pages, packed with the most valuable lessons I've learned through 40 years in the single life.

Oh, I'm no genius, for sure. Most of these truths were gleaned from tedious trial-and-error, sometimes making the same mistake over and over until I finally caught on. But I eventually did catch on, and I wrote down the lesson for you to benefit from. Why do the same dumb things I did, when I tell you how to avoid them?

A few of the gems in this ebook include:
How to avoid emotional pain (page 85);
How to be happy with your physical appearance (page 56);
When is it not important to please other people (page 53);
Why hasn't God answered your prayer for a spouse? (page 214).
Single & Sure is so solid that it comes with a money back guarantee. Check out the contents and a f'ree downloadable sample at Single & Sure...

---
Happy Valentine's Day!
I hope this issue has inspired you to appreciate the love you already have and to seek the love you want.

If you feel inspired to throw a rotten tomato at me (verbally, of course) or toss me a rose (also verbally), you can email your choice using our hearts-and-flowers f'ree contact form.

Have a happy Valentine's Day. Really. Until we meet again in March, remember that God thinks you're swell!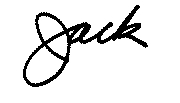 Jack Zavada
www.inspiration-for-singles.com
401 Indiana Ave
Streator, IL 61364 USA