---
June 17, 2014 Issue #099
Having something to look forward to
will inject fun into your life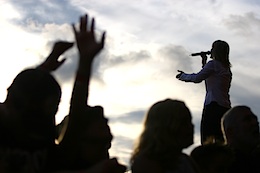 One of the secrets I've discovered for coping with the single life is having something to look forward to.

Let's face it: Sometimes things can get pretty dreary. Life schlepps along, we go about our daily routine, wondering when or if it will get any better. As you know, if you've been paying attention to these newsletters, I favor a proactive approach. One of my regrets from the past is that I wasn't more aggressive in looking for a mate.

Having something to look forward to makes life enjoyable. It creates a sense of anticipation that keeps things moving. It actually makes time seem to go faster.

As we discussed a couple months ago, loneliness is always a problem for singles. When you're looking forward to some upcoming event or treat, it takes your mind off yourself and puts it on something constructive.

In this month's article, we'll review the importance of fun in your life, while putting it in the proper perspective. But we're looking at something deeper here.

Attitude is crucial. To a large degree we make our own heaven or hell here on earth by the way we interpret things. One way you can have more "heaven" is to have something to look forward to.


---
I'm gonna be all right
I'm traveling toward extinction,
I'm on this road alone.
I have a destination,
not made of brick or stone.

I know right where I'm going,
though I cannot see ahead.
'Cause Someone marked the way for me
with all the blood He shed.

I'm gonna be all right.
of that I have no doubt.
I'm headed for a home
where we will dance and sing and shout.
My Savior made a place for me
where everything is right.
No obstacle can stop me now,
I'm gonna be all right.

I'm gonna be all right,
despite a life of sin.
The Master paid the price for me
and He will take me in.

He washed me in his righteousness,
my robe is snowy white.
His holy grace has saved my soul,
I'm gonna be all right.

I'm gonna be all right.
of that I have no doubt.
I'm headed for a home
where we will dance and sing and shout.
My Savior made a place for me
where everything is right.
No obstacle can stop me now,
I'm gonna be all right.

~ Jack Zavada, 2014 ~

---
June quotation from Henry Ward Beecher
June's quotation of the month comes from 19th century clergyman and abolitionist Henry Ward Beecher:

The art of being happy lies in the power of
extracting happiness from common things.
~ Henry Ward Beecher (1813-1887) ~

The world tells us we have to keep buying, buying, buying. Always wanting the latest "must-have" item can lead to a treadmill of debt and dissatisfaction. It's better to find happiness by appreciating common things.

I am grateful for the food God provides me every day. To have a place to live, a car to drive, meaningful work--all these things bring comfort. If we learn to appreciate the things we have instead of being disgruntled over the things we don't have, we'll be more contented.

The single life can be frustrating, that's for sure. But we can be a lot happier if we pour our energy into thankfulness instead of envy.


---
Do you believe you're a hopeless case?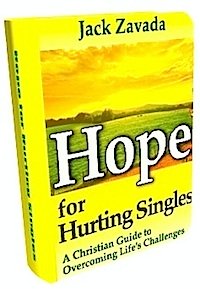 About a month ago, a single person emailed me, insisting they were hopeless.

After 40+ years in the single life, I can assure you that how you see yourself has a huge impact on how your life turns out. Believe you're hopeless? You won't even try, figuring, "What's the use?"

I can also assure you that your perspective on your own life is skewed. You've become so overwhelmed by the bad things that have happened to you that you don't believe anything good will ever happen.

That's why I wrote Hope for Hurting Singles.

Get a new outlook on life. Learn to discover and develop your positive qualities. Build on small successes. Most important of all, find the true source of self-esteem that never fails. I mean it!

Hope for Hurting Singles is a Christian ebook that will put you back on the path to joy.

There is hope for you, and you can find it here.

Check out the contents of Hope for Hurting Singles.

---
How to become more lovable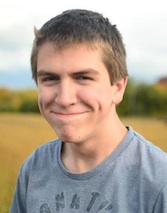 While we're talking about hope and happiness in this newsletter, let's also talk about love.

It's no secret that you and I want to be loved. Every person on this planet wants to be loved, no matter how tough or indifferent they act. Most of the tragedies of life are caused by people who believe they are not loved.

But how do we get the love we're looking for? How, as single people, do we find love without taking desperate measures? Perhaps the answer is for each of us to become more lovable.

Here's an article I wrote some time back for www.christianity.about.com. It provides some practical advice and some guidance on how each of us can become more lovable.

---
Lessons from my Dad to you
I'm writing this Inspire-O-Gram just before Father's Day in the United States. My Dad, John Zavada, died in 1995, but he left me enough love and wisdom to last the rest of my life.

If you're struggling today, my father has something to say to you. You see, he was wounded in World War II, which left him disabled. Before that, he had to drop out of high school to help his father support their large family during the Depression.

My Dad was one of the wisest men I've ever met. He loved Jesus and set an example for my brother and me that made us men of God too. Whether you're disabled or not, I think you'll appreciate these lessons from my Dad.

I hope you're enjoying life and asking Jesus to help you with the challenges it throws at you. This single life can be a tough one, but through the grace of God, we can be bigger than anything we face.

As always, I'm as close as your keyboard. You can always reach me using our gluten-free contact form.

Thank you for reading this Inspire-O-Gram. If you have a friend who would benefit from it, please forward it on to him or her.

Until July, may God pat you on the head and send you on your way!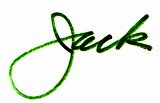 Jack Zavada
www.inspiration-for-singles.com
401 Indiana Ave
Streator, IL 61364 USA