---
November 24, 2009 Issue #044
---
Is God punishing you?
Not a chance!
Occasionally I'll get an email from a visitor to www.inspiration-for-singles.com who sincerely believes God is punishing him or her by preventing that person from finding a spouse.

Years ago I had that same thought myself. I hear it often enough from other singles to know it's a fairly common belief.

What's behind it? Why do we think that way? Does it have to do with our upbringing or an unrealistic picture of God?

I gave the matter a lot of thought and tried to answer the question, "Is God punishing me?"

---
How to Beat Shyness! FR'EE!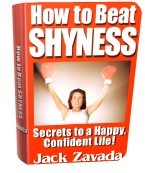 Instead of giving away my usual Christmas novel this year, I decided to do something different. It's a f'ree ebook titled How to Beat Shyness.

Like my other ebooks, this one is jammy-packed with practical advice from the trenches. Why should you repeat my mistakes? Learn from them and be smarter than me! Hurray!

And the best part? It's F'REE! No address capture, no strings attached, no spyware, nothing but a solid learning experience and a few smiles, too.

How to Beat Shyness is my 2009 Christmas present to you. To download this f'reebie, just go to this page...

---
November Quoto-Rooter
November's quotation comes from Henry Ward Beecher, a preacher, social reformer and abolitionist in 19th century America.:

Every tomorrow has two handles. We can take hold of it with the handle of anxiety or the handle of faith.
Henry Ward Beecher (1813-1887)

We singles have a choice. We can put our faith in God and his love for us, or we can allow our lives to be dominated by our fears. Having done some of both, I can confidently tell you that trusting God is the better choice.

No, we won't always get what we want, but we will be much more positive, more optimistic, and much happier. Expect good things. Appreciate all the good things you already have, especially your relationship with God.

Most of the things we worry about never happen. Instead of worrying what you'll do, ask God to give you the strength to do the right thing, no matter what happens. Then sleep well at night!
---
Get up, Pilgrim!
Get up, Pilgrim,
It's a brand new day.
A busload of blessings
is headed your way.

You got clothes and food
and a place to stay.
That's more than
a lot of poor people can say.

Get up, Pilgrim,
Have you heard the news?
The Son of God
can cure your blues.

He'll help you beat
that thing you dread.
So get up, Pilgrim,
jump outa that bed.

Get up, Pilgrim,
You don't have to hide,
when God Almighty
is on your side.
I say God almighty
is on your side!


--Jack Zavada, 2009--
---
F'ree Christmas novels! Yippee!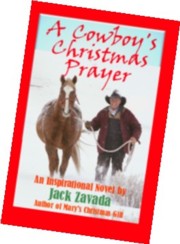 If you missed them before, you'll want to check out our three f'ree Christmas novels. These ebooks have received an enthusiastic response from the folks who have read them.

There's Mary's Christmas Gift, a modern story about a single, pregnant executive whose dilemma turns into an unexpected blessing; A Cowboy's Christmas Prayer, set in the old West, about a hardworking single mother and a down-on-his-luck cowboy; and Appalachian Christmas Dream, set in Kentucky in the early 1900s, the story of a single school teacher who finds romance while on a crusade to teach adults to read and write.

Not only are they fun, but they're fr'ee. Even I am shocked by my generosity! You can find these gems at: www.inspiration-for-singles.com/free-stuff.html.

---
Happy Thanksgiving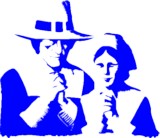 Poor atheists. Nobody to give thanks to this Thanksgiving. Well, we're celebrating November 26 this year, and it's always swell to get together with my family.

One of the things I'll be giving thanks for is you, the subscribers to Inspire-O-Gram.

If you ever get the urge to send us a note, it's easy to do with our low-cholesterol contact form.

Thanks for reading, fellow singleton! Until December,

God's best to you!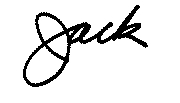 Jack Zavada
www.inspiration-for-singles.com
401 Indiana Ave
Streator, IL 61364 USA