---
October 18, 2016 Issue #127
Stop self hate with God's truth
Self-hate is one of the dirty little secrets of being human.

"Me? I don't hate myself," you may say. I hope not. But it's just you, me, and your computer here, and I'm suggesting many single people do engage in self-loathing thoughts, and far too often.

Why do we do it? The reasons are complex. We'll explore them in October's feature article. My real goal is to help you confront this trait in yourself, understand it better, and with God's help, overcome it.

Once again, I'll confess I indulged in this bad habit myself. For years. I'm not proud of it, but I promised to be honest with you so you can avoid the mistakes I made. I'm far from alone in this behavior. As I said, most people do it, but very, very few acknowledge it.

This was one of those articles that was painful for me to write. Thank God there was a happy ending. Oh, self hate still rears its ugly head in my life once in a while, but now I know why and I know what to do about it.

I know the truth, and as Jesus said, "Then you will know the truth, and the truth will set you free." (John 8:32)

I want you to be free of self hate too. Let's take a look at what you need to do to stop self hate.


---
I left all that behind
Everybody has a place
that's dark and filled with hate.
A voice speaks very softly there
with words that devastate.

"So ugly!" "You're not good enough."
"Nobody cares for you."
Why do we pay attention
when we know it's all untrue?

Behind these accusations
is Satan's twisted mind.
But I don't go there any more
I left all that behind.

I left all that behind,
the wicked, hurtful things
They come from the Father of Lies
and not the King of Kings.

There is One who died for me
with mercy so sublime,
I stopped believing Satan's lies,
I left all that behind.

I left all that behind
and stepped into the Light.
Jesus gave his love to me
and made my poor life right.

His Light drove out the darkness;
The truth filled up my mind.
I don't listen to the lies.
I left all that behind.

~ Jack Zavada, 2016 ~


---
Peter Kreeft is October's Quote Guy
October's Quote of the Month comes from Peter Kreeft, PhD., professor of philosophy at Boston College and author of 75 books, including Knowing the Truth of God's Love:

If God loves me, I must love myself--not coddle myself but respect myself, not idolize myself but love myself as I love my neighbor. Otherwise I call God a fool. If God calls me precious and I call myself junk, I'm calling God a liar.
~ Peter Kreeft (1937- ) ~

Self hate disagrees with God's opinion of us. We see ourselves as worthless when Jesus saw us worth dying for. Whether it's Satan whispering these destructive accusations to us or our culture implying we don't measure up, we need to go to the Source of truth: God himself.

Christians can be assured their sins are forgiven in Christ. I don't worry about that any more because I have accepted the truth. You and I are fine with God, more than fine. We are his beloved children.

When you look in the mirror tomorrow, see a person who is a close personal friend of the Creator of the universe, by His choosing. Don't judge by your circumstances or anything else. Walk in the encouragement of God's love for you!


---
The bottom-line truth about loneliness
"You cannot eliminate loneliness from your life altogether, but you can learn to manage it to minimize its effect on you."
That's the operating principle of my ebook, Outsmarting Loneliness.
Loneliness is part of the human condition. Even married people experience it at times. For single people, the key is to turn alone times into solitude. Outsmarting Loneliness shows you, step-by-step, exactly how to do that.
This is practical, down-to-earth stuff. You'll learn

The secret to bust shyness;

The truth about people who go to church;

Why clubs and organizations will welcome you;

How to spot "irresponsible" people;

How to pick a fascinating hobby.
It's only $7.97 in an instant download, in PDF format. Cheaper than a printed book, delivered right to your computer by Clickbank, a leader in digital information.
Want to learn more? Get all the details at Outsmarting Loneliness.


---
Get smarter; enjoy life more!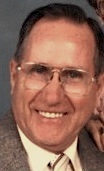 When I was about 11 years old, an acquaintance did something I just couldn't understand. It didn't make any sense, and he suffered for it. Today, I can't even remember what it was, but I do remember asking my Dad why that boy did it.

Dad looked at me a moment and said, "Well, everybody's not smart."

Now you may think that's funny or a flippant answer, but when you consider it carefully, it's one of the wisest things you'll ever learn. It explains 90 percent of human behavior.

The good news is everybody can become smart, regardless of their I.Q. They can do that by observing others, reading, studying the Bible (the world's greatest source of wisdom), and by being humble enough to learn.

Although he had to drop out of high school during the Depression to help support his brothers and sisters, my Dad, John R. Zavada, was one of the wisest men I have known. All the worthwhile things he taught me about life became part of www.inspiration-for-singles.com and this monthly newsletter. You're learning from him too.

Here's another truth he taught me that can put you head-and-shoulders above others when you make it your own. Check out this short article why every action has consequences.


---
How to remind yourself of God's love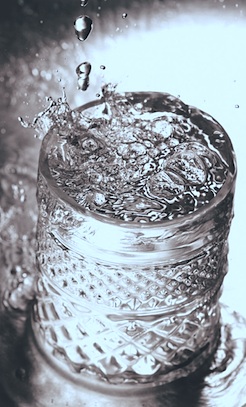 How easy it is for us singles to forget how much God loves us. Here's a way to remind yourself every day. Whenever you take a drink of clear, refreshing water, think of what Jesus said to the Samaritan woman at the well:

Jesus answered, "Everyone who drinks this water will be thirsty again, but whoever drinks the water I give him will never thirst. Indeed, the water I give him will become in him a spring of water welling up to eternal life." (John 4:13-14)

Christ has given you eternal life, and it started the moment you received Him as your Lord and Savior. When you're tempted to say mean things to yourself, break the cycle with a drink of water to remind yourself Jesus lives within you, by his choice. He loves you deeply and his opinion is the one that truly counts.

Remember, if you want to email me, you can always do so by using our secure contact form or email me at jack@inspiration-for-singles.com.

Soon we'll be caught up in the bustle of the holidays, a hectic time that's often hard on single people. We can't always escape the rush, but we can keep things in the proper perspective.

Be smart, as my Dad recommended. Catch yourself before you go down the dark alleys in your thoughts. Be kind to others. Be patient. And remember to always be kind to yourself.

PS: Thanks to Marie and Dawn for your nice comments on the September newsletter.

Until November, fellow singletons,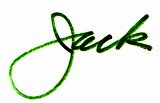 Jack Zavada
www.inspiration-for-singles.com
401 Indiana Ave
Streator, IL 61364 USA