Inspiration to help you thrive in the single life!
You're receiving this free ezine because you signed up for it at www.inspiration-for-singles.com--which proves how brilliant, sophisticated, and gorgeous you really are!
If you like Inspire-O-Gram, please forward it to your friends.
If a friend did forward it to you, please sign up for your own free subscription at: Inspire-O-Gram


---
Issue #025, April 22, 2008
Welcome to the April 2008 edition of Inspire-O-Gram!
How's your life? Great or stinky?
It's easy for us single people to slide into a grouchy, pessimistic, miserable existence if we're not careful. But the good news is that if you're headed that way, or if you're already there, you can turn things around.
Here are some thoughts on how to do a life makeover...
Check these additional articles on de-stinking your life:
Steps to take when your life is miserable...
How to be more patient...
Why gratitude can be the start of turning your life around...

Feeling homesick?
If you're a college student, in the military, or working at a job far away from your friends and family, you may suffer the pains of homesickness.

I know what it's like. It can make you feel lonely and depressed. You may not be able to change your situation, but you can change the way you're coping with it.

Here are some practical tips on how to bust the cycle of homesickness...
You can get back
This month's poem is about reaching out in the right direction when your life has gone sour:

Sometimes you wander off the path.
You didn't mean to stray.
Take heart and cry out to the Lord
and get back on the Way.

You can get back on the Way,
He'll make things right again.
You'll walk the road of righteousness
and leave that path of sin.
He'll help you put your past behind
just kneel to Him and pray
You're life's not lost
it's just off track
So get back on the Way.

Hurt and sorrow drag you down
you fight them every day.
But God will lift you by the hand
to get back on the Way.

So seek the Savior while you can
my friend please don't delay.
He's standing near to rescue you
so get back on the Way.

You can get back on the Way
and live in peace again
'cause Jesus is the Way for you
He saved you from your sin.
He bought your place in heaven, friend,
Come back to Him today
He wants to lead you home to God
so get back on the Way!

--Jack Zavada, 2008--
Quote time...
This month's quotation comes from Eleanor Roosevelt, wife of President Franklin D. Roosevelt, civil rights advocated, delegate to the United Nations, and one powerful motivator and example in her own right:

"You gain strength, courage, and confidence by every experience in which you really stop to look fear in the face. You are able to say to yourself, 'I have lived through this horror. I can take the next thing that comes along.'...
You must do the thing you think you cannot do."
Eleanor Roosevelt (1884-1962)
How I faced my fears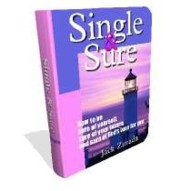 In my nearly 40 years as a single person, I've made a lot of mistakes. But I've learned from them, and all those important lessons are packed into my big ebook, Single & Sure.

You'll discover how to overcome loneliness, how to climb out of depression, how to repair damaged self-esteem, and how to laugh again. You'll appreciate the simple, common sense approach, and you'll be able to apply these solid principles to your life immediately.

Single & Sure is available only through ClickBank, which takes major credit cards and PayPal. If you don't own a credit card, you can ask a friend to charge it then pay her back.

Start building the life of happiness and purpose you've always wanted with Single & Sure...
Why not drop us a line?
That wraps up the April 2008 Inspire-O-Gram, friend. I hope you found something worthwhile in it.
You can always comment on this newsletter or any aspect of www.inspiration-for-singles.com by using this handy contact form.
Thanks again for reading. Until next month, enjoy God's gifts to you and remember that happiness is contagious!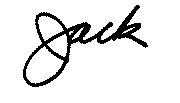 Jack Zavada
www.inspiration-for-singles.com
401 Indiana Ave
Streator, IL 61364 USA