---
April 23, 2013 Issue #085
Hope for Hurting Singles ebook
is packed with encouragement!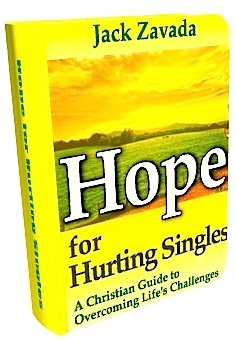 Hope for Hurting Singles: A Christian Guide to Overcoming Life's Challenges is finally here!

My new ebook may be the most encouraging thing you read this year. It's all new material, and as always, it's practical advice to help you become a happier person.

Before I started writing, I thought long and hard about how I wanted to approach this subject, and I could come to only one conclusion. My Christian faith has brought me through the most painful trials of my life, so I had to center this book around what worked for me: Jesus Christ.

This newsletter and www.inspiration-for-singles.com go around the world, so I knew this decision might lose me sales. But I promised long ago to tell the truth in this newsletter and on the site, so that's what I did.

It's a 146 page PDF format ebook, and it sells for only $9.97. As with all my ebooks, it comes with a moneyback guarantee offered through Clickbank.

If you could use a big booster shot of hope, check out Hope for Hurting Singles!


---
Grieving a loss comes to us all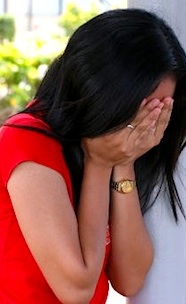 April's feature article is about grieving a loss. Losses come in all shapes and sizes, but we'll be dealing specifically with losses through death, relationship losses, and the loss of a job. I've gone through all three.

When we're young, we feel invincible. We think nothing can hurt us and life is going to be smooth sailing. Eventually one of those devastating losses comes along. It's necessary to grieve after a loss. How we do it and how long we do it are important.

Rather than being a downer of an article, this is advice that will prepare you well for things to come. You'll be able to avoid the mistakes I made and learn from what I did right.

We can't live a charmed life, no matter how hard we try. Check out these vital thoughts on grieving a loss.

---
April's Quote of the Month
For April's inspirational quote, we turn to Harriet Beecher Stowe, abolitionist and author of Uncle Tom's Cabin, the book that played a major role in the fight against slavery in the United States:

"Never give up, for that is just the place and time
that the tide will turn."
Harriet Beecher Stowe

The single life is a marathon, not a sprint. To make it to the finish line, we have to bounce back from disappointment, loss, and failure. Often we feel that it's a lonely journey--us against the world.

The truth is that God is our constant companion, holding us up, giving us comfort, empowering us with his mighty strength when we want to quit. Every day is a new chance. Every day is a fresh start. Don't give up. Keep going and keep hoping for good things for yourself.


---
Ready for more
Sit up in bed
feet on the floor.
Open my lids
And get ready for more.

Get Wheatie-fied,
run out that door.
I'm fonda my Honda
and ready for more.

There's the boss,
Yo, Commodore!
Gimme some work,
I'm ready for more.

Work day's done
for this carnivore.
Time to chew stew,
I'm ready for more.

Bedtime for Bonzo,
hear me snore.
The Spirit's inside me
and I'm ready for more.

~ Jack Zavada, 2013 ~

---
More hope-inspiring stuff!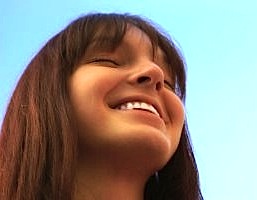 There's real hope for you and me, and those aren't empty words. You have lots to look forward to, and I've often said (in case you've forgotten), "God can turn your life around in a heartbeat."

Here are some reminders that our hope is real:

How to Beat the Feeling of Hopelessness

Why you are NOT a bad luck person

A bouquet of Encouraging Quotations

---
Got regrets?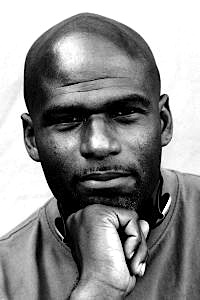 If you have regrets over something you did--or didn't do--in the past, this sermon may be the most important thing you ever hear on the subject. I found it incredibly wise and encouraging.

It was given by Michael Phillips of Grace Baptist Church in Fresno, California, runs only 23 minutes, and contains a healing message we all can use. It's called "Spiritual Depression: Regrets."

This sermon is on a great resource site for single people: sermonaudio.com

Sermonaudio.com features over 645,000 F'REE sermons on a wide variety of subjects. And, they have sermons in more than 30 languages! Muy bueno!

You can download an MP3, listen online, download to your smart phone, or watch videos online. The Search functions let you find the exact topic or speaker you're looking for.

Make a visit. Do a f'ree download. Turn your MP3 player into a pint-sized encouragement powerhouse!

---
Stuff EVERYBODY can afford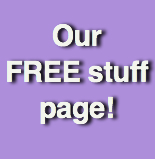 That wraps up the April lnspire-O-Gram, fellow singleton. I hope you found something that pepped up your spirit.

If you've recently subscribed to this newsletter, you may not be familiar with our F'REE STUFF page on the site. It's full of gratis goodies and you won't pay one thin…whatever your country's currency is. It's just fun and inspiring things to keep you going!

Summer is just around the corner. As you get wrapped up in your usual nice weather activities, don't forget to keep attending church during the summer months. Hearing the Word every week keeps my head on straight, and it will work for you, too.

Meanwhile, if you'd like to toss me a comment or complaint about this newsletter, you can reach my inbox via our pollen-free contact form.

That's it for April. Until our May issue, put your hope in the One Who Can Deliver,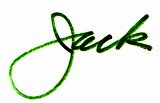 Jack Zavada
www.inspiration-for-singles.com
401 Indiana Ave
Streator, IL 61364 USA