---
February 18, 2009 Issue #035
---
Is it time to move on?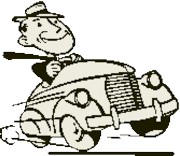 Congratulations on surviving that two-month commercial for flowers, candy, jewelry and greeting cards we call Valentine's Day.

It's one of the toughest days of the year for singles, if you don't have a special someone. The honest truth of the matter is that millions of us don't have a special someone, and we're made to feel like space aliens if we don't. Valentine's Day can bring up sad memories of what might have been but didn't come to pass.

Sooner or later, we all have to move on. We don't have to, of course, but we miss out on life's best opportunities if we stay where we are. God doesn't want you stuck in an emotional mudhole all your life. He wants you to get your jalopy in gear (like the little guy at the left), and get back on the road to happiness.

How, you ask? Well, here are some thoughts about moving on...

---
February Quoterrific
February's quotation comes from German physicist and satirist Georg Christoph Lichtenberg, who left a series of fascinating notebooks and set the foundations for scientific study. Georg, who apparently was so thrifty he didn't want to use an extra 'e' on his name, had a sharp mind and a mature way of looking at life.

I cannot say whether things will get better if we change; what I can say is they must change if they are to get better.
Georg C. Lichtenberg (1742-1799)

Status quo. Same old, same old. It's comfortable but you're like a plant in a pot that's too small. Potbound, we used to call it. But we're only like plants. We humans have the ability to get up, move, and change. It doesn't necessarily require a geographic change, but it does always take a change of outlook. Want your life to get better? Look for something stinky you can change!

---
Another rainbow
When you come to the end of your rainbow
and you find that the gold isn't there;
You can sit down and cry,
you can wish that you'd die
'cause it hurts when your life is unfair.

Or you can get to your feet and keep moving
in spite of your sadness and pain.
You can cross the next hill
and keep going until
things change and you run into rain.

Oh there's always another rainbow.
You can find a new way to your dreams.
The sun isn't gone,
it just hid for a while.
It is never as dark as it seems.
It is never as dark as it seems.

Jack Zavada--2009

---
When despair comes in...
Too much disappointment can overwhelm you. You begin to lose hope and feel there's nothing you can do.

But there is. You can reach out to God. He is your faithful companion who is always ready to help.

If you're feeling that everything is going against you right now, here's some excellent advice from my friend Mary Fairchild, Guide at www.christianity.about.com. See what she has to say about overcoming despair...

---
It's not easy being single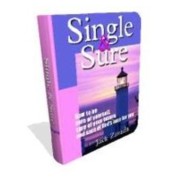 No, it's not easy being single, but it can be easier with my ebook, Single & Sure. Why? Because I took my lumps over the past nearly 40 years, but I learned a lot of important lessons along the way.

You'll get the benefit of my trial and error in this easy-to-read, encouraging manual on the single life. How to tackle loneliness. What to do with anger. How to feel good about the way you look. This is a giant resource on the questions singles ask most. What's more, you'll get three bonus books that will help you live smarter and happier.

This powerful package is available for only $14.97. Here's what you'll learn from Single & Sure...
---
Anybody home?
Did you find this issue of Inspire-O-Gram worthwhile?

Yes? No? Got a date with George Clooney and no time to write me? No? Then get those digits dancin' and tap out an email on our nonpinching contact form.

Enough then for the February issue! It's always a treat to speak to you. Until we meet again in March,

Pray with your heart, not with your head,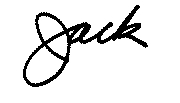 Jack Zavada
www.inspiration-for-singles.com
401 Indiana Ave
Streator, IL 61364 USA