---
February 11, 2014 Issue #095
Let's enjoy more good days this year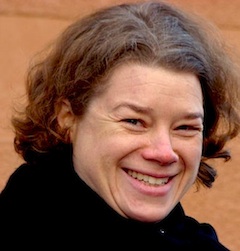 Greetings, fellow singletons!

This month we're looking at how to have more good days in your life, including, yes, that one so many are dreading, Valentine's Day.

I don't have to tell you the world can be a scary place, and lately it seems a lot of people are deliberately trying to scare us. The reasons vary. Much of the "scare talk" we hear is to get us to buy things that will supposedly make us safe, like anti-virus software, security systems, and more insurance.

In Illinois, USA, where I live, the news and weather broadcasts on TV have been trying to make their reports on our harsh winter weather scary. Fear sells. People don't like to be afraid, so they look for solutions.

My point is that if you live by all the messages thrown at you, you'll be in a constant state of agitation, and when you're agitated, you're more susceptible to suggestion.

Don't live that way, single friend!

As much as possible, we want to live above our circumstances. We want to cultivate a state of inner serenity so we can live out our joy no matter what's going on around us.

Here are some thoughts on how we singles can live above our circumstances and enjoy more good days.


---
There is love
On this planet by myself,
confused by what I see.
Pairs of people everywhere,
but is there love for me?

They're not as common any more
as they once used to be.
But every time I see one now,
I know there's love for me.

In polished gold or splintered wood,
the messages agree.
The cross gives comfort to my soul,
saying there is love for me.

There is love for me,
a love that never ends.
A love more powerful by far
than of family and friends.

There is love for me,
love poured out from the cross.
A love that came and took my hand
when all my hope was lost.

Every day He gives me strength
to live expectantly.
He tells me not to give up.
Yes, there is love for me.

~ Jack Zavada, 2014 ~

---
February Quote of the Month
February's Quote of the Month comes from Warren Wiersbe, pastor, Bible teacher and Christian author:

We have little control over the circumstances of life. We can't control the weather or the economy, and we can't control what other people say about or do to us. There is only one area where we have control--we can rule the kingdom inside. The heart of every problem is the problem in the heart.
<~ Warren Wiersbe (1929- ) ~

So much of our life depends on how we respond to things. When we see people who are serene during life's storms, we envy them, never guessing we possess the same power to maintain that spirit of calmness.

Too often we blame our personality for our anxiety when the true problem is simply refusing to trust God. Trust in God, unwavering faith, is the secret of the Christian life. Learning to trust God is the greatest adventure on Earth.

You can control the kingdom inside, if you will let Jesus Christ control you, instead of your circumstances. In Christ there is acceptance. In Him there is peace. The more we let Him rule us, the more peace we have.


---
Now on Kindle!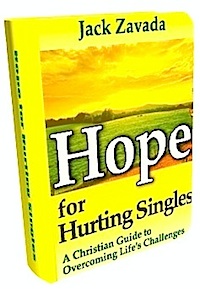 Hope for Hurting Singles, my newest ebook, is now available in the popular Kindle ereader format.

We singles don't need another cutesy dating guide. Hope for Hurting Singles examines the inner life, offering practical answers for
Loneliness
Shyness
Rejection
Bitterness
Fear
Low self-esteem
Depression, and much more.
What makes this book different and more practical, I believe, is that it was written not by another married pastor (who has forgotten what it's like to be single) but by someone who has been single over 40 years.
I think you'll appreciate my down-to-earth approach. If you're a Kindle owner, take a look inside Hope for Hurting Singles...

---
Yeah, laughs…That's what we need
Sometimes the absurdity of life demands laughs. Like right before Valentine's Day. Especially before Valentine's Day.

Lately, when I see the perfume and lingerie commercials on TV I yell at the set, "Gimme a break!" Talking to a television may be one more reason I'm not married.

Anyway, here are some things that may make you smile, laugh out loud, shoot your beverage out of your nose, or shake your head in disgust and yell at your computer, "Gimme a break!"

Funny poems that made me laugh when I re-read them just now

---
Two good things are certain

As we approach Valentine's Day, here are two good things to remind yourself of: God loves you immensely just the way you are, and he can turn your life around in the blink of an eye.

I made the mistake, for many years, of believing that because I wasn't getting what I wanted out of life that God didn't love me. What a goof I was! My parents never gave me everything I wanted when I was a small boy, knowing that would turn me into a selfish brat. It stands to reason that God wouldn't want me to become a selfish adult, either!

Don't be goofy, like I was. Don't measure God's love for you based on your circumstances.

Sometimes it takes God years to orchestrate events and people to put us exactly where he wants us so a miracle can happen, and when it does, it happens fast. So stay hopeful!

As usual, my inbox is open 24/7/365. You can zing me an email using our nonallergenic contact form.

I hope this February Inspire-O-Gram gave you a lift. Spring is just around the corner, and for those of us soooooo tired of winter, that's something to cheer about!

Until March,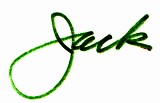 Jack Zavada
www.inspiration-for-singles.com
401 Indiana Ave
Streator, IL 61364 USA