---
June 28, 2011 Issue #063
How to get your life
back on the path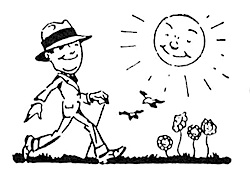 Among all the singles reading this newsletter, someone is having a really hard time of it right now. Is it you?

We all reach that place in life at times, and it's nothing to be ashamed of. We would be dull-witted indeed if nothing ever got us down.

This issue of Inspire-O-Gram is meant to encourage you and renew you for the fight. It's to remind you that you're not alone against the world. I can't avoid the truth and fail to mention the God who supports us, giving strength and courage to go on. Sorry if my words about Jesus bother you. He predicted many people would find his name offensive, but I promised myself to tell you the truth in these newsletters and on www.inspiration-for-singles.com.

So please take these words to heart. Give them some serious thought tonight as you go to sleep.

Our first picker-upper is for singles who are having trouble going on. It gives you something to remember if you feel that life is meaningless.

---
Keep on walking
Some days it's hard
to find motivation.
You're perched on the edge
of desperation.

So here's some advice,
my sister and brother.
Keep putting one foot
in front of the other.

It's perseverance
that pulls us through.
It's not what you say,
it's what you do.

Being single's a journey
on a hazardous road.
And sometimes you stumble
from bearing your load.

Satan will trip you
with all of his talking.
So learn to ignore him
and keep on walking.

Keep on walking
and don't look back.
Recall what you have
and not what you lack.

Keep on walking,
but if you're not strong
or your legs don't work,
then keep rolling along!

Keep on walking
when you'd rather drop out.
Keep on praying,
don't give in to doubt.

Stay on the right path,
don't wander or roam.
Just keep on walking
and you'll make it Home.

--Jack Zavada, 2011--

---
F'ree for shy folks!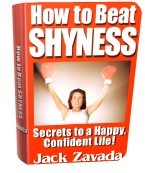 Got a shy friend? Or maybe you're shy yourself? Either way, here's a great free'bie compliments of inspiration-for-singles.com. (Hey, that'd be me.)

How to Beat Shyness is a concise ebook guide to gaining the self-confidence you need to do big things.

I used to be a shy guy in high school and college--until I got a job as a newspaper reporter. Yikes! I had to get UN-shy real fast! These are the simple, doable techniques I used, and believe me, they work.

Besides, how can you go wrong for f'ree? This ebook is in PDF format. So if you want to tell your shy friend about it, forward this newsletter to them and tell them about this link:

How to Beat Shyness



---
June Quotoroonie
June's Quote of the Month comes from Irish poet Thomas Moore:

Earth has no sorrow that Heaven cannot heal.
--Thomas Moore (1779-1852)--

Too often we singles think about heaven as if it's merely a nice wish. Hey! It's real! I don't believe heaven exists because of anyone's near-death experience but because Jesus Christ said heaven is a real place and that he was going to prepare a place for each of us.

For us singles, that place will be more than just a spot to hang our harp. It will be a righting of all the wrongs that happened to us in this life. It will be an explanation of all the things we couldn't understand. And best of all, it will be the fulfillment of the love we have always wanted.

That's what heaven is, and I'm looking forward to seeing you there.

---
Brain overload! Brain overload!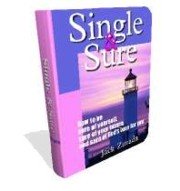 Okay, so maybe I'm exaggerating a little. Okay, a lot.

But if you get my ebook, Single & Sure, you'll get my 40 years of experience in the single life, without having to go through all that grief yourself.

Learn how to avoid bad stuff BEFORE it happens to you. You know what they say: It's easier to step around it than to clean if off your shoe. Loneliness, worry, depression, anger, jealousy, they're all covered in Single & Sure. You will NOT find another book with this much useful, practical information on the single life anywhere, bookstore or online. And it's only $9.97.

ebooks are skyrocketing in popularity, but you know the good part about this one? You don't need a Kindle, Nook, or other ebook reader. You'll read it right on the computer you're using right now, using the f'ree Adobe Reader software.

Check out all the details here on Single & Sure

---
Can't hear this too often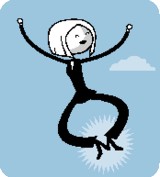 Most of the time we single folks don't hear it in words, but if we ask for help from the Holy Spirit, we can learn to notice God say, "I love you."

You'll feel it when you see your favorite bird. Many years ago my friend Marilyn and I were sitting in her back yard talking, and a small owl landed on her garage, not ten feet from us! Marilyn called that moment a gift from God, and she was right.

Maybe it's a beautiful sunset. Or a wonderful surprise. Or someone doing something really kind for you. Maybe you'll have a moment when you realize how fortunate you are to have your parents or sibling or a certain friend.

If we watch for it, we'll hear and see God say "I love you" all the time. Maybe you haven't felt it lately, so here are some reasons why you're precious to God.

---
Got a comment? Rattle those keys!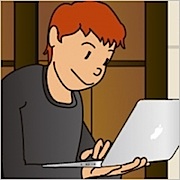 If you have a comment on the single life or this newsletter, I'd like to hear it. Dance your digits upon your keyboard using our polyester-free contact form.

Here's one of the sad truths of 'Netdom. If I listed my email address, nasty spambot programs would latch onto it like a vampire and send me all kinds of brain-devouring time-wasters. So that's why I have to use a Contact Form. Uh-huh. Sad but true.

I hope you're enjoying summer, or whatever season it is where you live. And I hope this newsletter was helpful for you.

I consider it a great privilege to visit you each month, and I'd like to thank you for subscribing. If you have a specific topic you'd like us to touch on in a future Inspire-O-Gram, please let me know using the Contact Form above.

Until July then, God bless,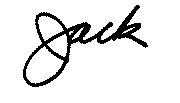 Jack Zavada
www.inspiration-for-singles.com
401 Indiana Ave
Streator, IL 61364 USA