---
March 11, 2014 Issue #096
Looking for something better makes life more exciting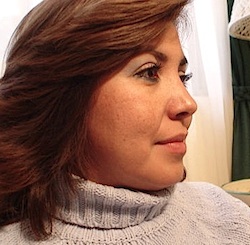 Dissatisfaction is a common thread running through the lives of singles. Usually that's a bad thing--but sometimes it's good.

Positive discontent spurs us singles on to improve our condition. You may go to college or get special training to get a better job. If you get a raise, you might move to a nicer home. If your vehicle constantly gives you problems, you might save up to get a more reliable one.

On the negative side, we have to guard against comparing our life to the life of somebody else and feeling that we always come up short. Contrary to what many people think, life is not a game where the goal is to acquire the most "toys" before you die. Whoever came up with that bumper sticker was an idiot.

This month, as we go into Lent and approach Easter, we'll be exploring the things it's wise to change and the things it's wise to keep.

As I seem to keep repeating, the world tries to tell us happiness is found in buying more, more, more. Try that for a while, as I did, and you'll discover it's a lie. Peace and joy, our true aims, are never found there.

Here are some thoughts on singles who are looking for something better.


---
Let it go
I held onto my hurt like a valuable prize,
I nurtured it and watched it grow,
until it became like a part of me.
And God said, "Please let it go."

"Let it go?" I cried. "I can't do that.
I enjoy my sad little show."
"And that is why you must give it up now;
I tell you again, Let it go."

But I am stubborn and don't want to lose
these wounds that make me feel low.
This time God whispered with pain in his voice,
"Here is why you must let it go."

"My Son took your hurt and pain to the cross.
He did it for you, don't you know?
He did it so you can find peace once again.
It's over, so please let it go."

Then I sobbed and I sobbed
as my hurt went away.
Jesus took on the debt that we owe.
You too can be free of the pain in your heart.
He will heal you if you let it go.

~ Jack Zavada, 2014 ~

---
March Quote of the Month
Our March quotation is a blunt bit of wisdom from Dr. David Livingstone, famous explorer of Africa and a Scottish Congregationalist medical missionary:

Fear God and work hard.
~ David Livingstone (1813-1873) ~

When the Bible tells us to fear God, it means to hold him in awe and reverence. We do that by worshipping him, loving him, and following his teaching. That's hard in today's world, especially for us singles. We have to hold ourselves to His higher standards.

The second half of Livingstone's quote is equally difficult. It's a real temptation to slack at whatever we do. Things begin to make more sense when we understand that we're working for God, not for ourselves or even our employer. We always give God our best effort.

When you set a goal for yourself, work hard at it. Set realistic goals but high goals. Dream giant economy-size dreams. Teensy dreams are for wimps. You're a child of a big God. Honor him with the size of your dreams.


---
Yep, it's the Big Kahuna!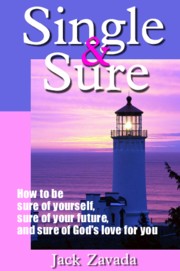 When I wrote Single & Sure, I wanted it to be big. I wanted to pour into it all the mistakes I made (so you can avoid them) and all the lessons I learned, so you can benefit from them.

Well, there were a lot of mistakes to cover, but a lot of good lessons, too. Single & Sure runs 240 pages. But it's also an easy read, in a quick, conversational style. You won't get bogged down.

You'll get practical tips on how to be confident instead of a worrier, how to find fulfillment instead of frustration, how to build enthusiasm instead of depression, and how to have a sense of sureness about your future.

Single & Sure is not for sissypants singles! It's about tossing out your wrong ideas about yourself, and that may be painful.

Even so, this is an encouraging ebook. You'll download it to your computer in a PDF file and read it with Adobe Reader, a f'ree program. You'll also get a moneyback guarantee. And only $9.97.

Now that's big. Check out the details and get a f'ree sample of Single & Sure.

---
Spring clean your mind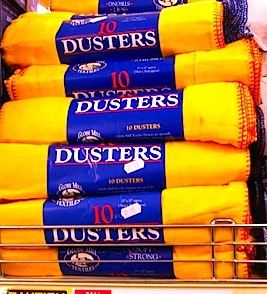 Whew! Wrong thoughts are like dust bunnies. They have a way of multiplying.

It's time to clear the cobwebs out of your cranium. Attack those antiquated notions that are holding you back. You don't even need to work up a sweat. Just tune your eyeballs into these articles about renewing your mind:

The Dangers of Obsolete Thinking

Is it Time for You to Start Over?

---
Remember to be kind to yourself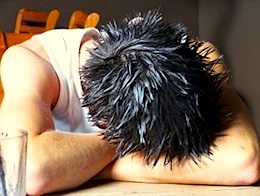 For many of the singles reading this, the world seems to be a lousy place. They feel as if everything is conspiring against them to make them miserable. I know, because I felt that way for many years, longer than I care to admit.

It's a strange thing. Some singles treat themselves in a cruel way they would never think of treating another person. They never give themselves a break. They're constantly disappointed in themselves. In their self-talk, they're mean and insulting.

If you're that way, it's time to change. It's time to grab onto the truth that God loves you. He sees the best in you and forgives all the other stuff. So forgive yourself, too. It's not prideful to love yourself. You're just agreeing with God, and God has good taste in friends.

My inbox is an open channel between you and me. If you'd like to zing me an email, just go to my itch-free contact form.

That wraps up the March Inspire-O-Gram, single friend. Remember that tomorrow starts the life you've always wanted. With God, change is possible. God wants to help you make things better.

Until April,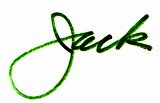 Jack Zavada
www.inspiration-for-singles.com
401 Indiana Ave
Streator, IL 61364 USA