---
November 24, 2015 Issue #116
Having a better Christmas this year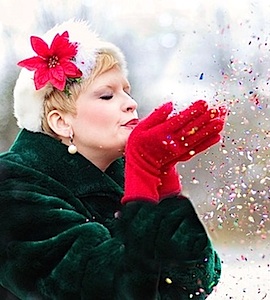 I want to use this issue of the newsletter to help you have a happier, more meaningful Christmas this year. I know it's not even Thanksgiving yet, but many singles are already feeling down, just anticipating the holidays.

Because I've been single more than 40 years, I have felt what you feel. I know the loneliness, disappointment, and alienation Christmas can bring. Maybe you're dreading Christmas. I used to do that.

I'd be lying if I told you I always get through this season without any trouble. It takes effort for me to keep my attitude right. But I'm no different from you, so I'm proof it can be done.

Please understand that I didn't arrive at a better Christmas overnight. It took decades for me to change my attitude. While there's no such thing as instant maturity, I hope to give you younger singles a shortcut by showing you what I learned through years of trial and error.

I'm here to tell you that you can have a more enjoyable Christmas this year. It's realistic. It's achievable, and I'm going to show you how I do it.

Take a look at having a better Christmas.


---
The telescope
I recall the day my Dad came home,
"This thing will help you see."
I looked at the shiny object and asked,
"A present, Dad, for me?"

He pulled it out to its full length.
"It's called a telescope, son.
Go outside and look around.
These things are lots of fun."

But when he found me later,
I was feeling very sad.
He asked why I was crying.
I said, "I don't like it, Dad."

"I don't like this telescope.
I don't like the thing at all.
Everything I look at
becomes very, very small."

He gently turned the toy around
put it to my eye and then
"You weren't looking the right way, son
So try the thing again.

"What makes the difference in your life,
as you will travel through it,
is not what happens to you, son,
But instead, the way you view it."

~ Jack Zavada, 2015 ~

---
Abe wrote our November quote
This month we turn to the 16th president of the United States, Abraham Lincoln, for our quotation of the month. For those of you outside the U.S. who may be unfamiliar with him, Lincoln had two sons die during his lifetime and he frequently suffered from depression. Here's some true wisdom:

To ease another's heartache is to forget one's own.
~ Abraham Lincoln (1809-1865) ~

For hurting singles, this advice makes a lot of sense at Christmas time. I often find myself wondering, "What about my needs? Who cares about me?" How selfish of me! When I really think about it, I've got it pretty good.

Lots of people are hurting more than me this time of year. We each can do something to help a budget-strapped single mom. We can do something kind for a widow or widower we know. (The first Christmas alone is always the worst). We can help kids who wouldn't have a Christmas gift if it weren't for the Salvation Army.

Living alone gives you tunnel vision: You tend to think about me, myself, and I too much. We model the love of Jesus when we help someone else in need. That's what Jesus did. Lincoln was right. We can forget our own suffering when we ease someone else's.


---
Loneliness isn't just a Christmas thing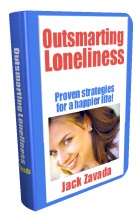 Most of us would like to be with someone special, but when you're not, what do you do? Outsmarting Loneliness shows you, step by step, how to manage your loneliness until that person comes along.

This battle is mostly inside your head. Your thoughts can get you in trouble, but your actions can too. Outsmarting Loneliness gives proven tips for right thinking.

You'll discover:

* The secret that busts shyness wide open;
* Why clubs and organizations will welcome you with open arms;
* The surprising truth about people who go to church;
* The right kind of hobby to pick to make friends;
* What you must know before you get a pet;
* How to recognize an "Irresponsible" before they wreck your life;
* The empowering truth about loneliness.

Choose between two formats: PDF ebook that you download directly to your computer or tablet, or Kindle ebook you download to your Kindle.

Check out all the details at Outsmarting Loneliness.

---
Quotations about God's greatest gift
Since I'm the boss man of this newsletter, I get to put in whatever I want. We're talking about Christmas in this issue, so here are some quotations on the greatest gift God has for you, heaven.

God will prepare everything for our perfect happiness in heaven, and if it takes my dog being there, I believe he'll be there.
Billy Graham

If I am not allowed to laugh in heaven, I don't want to go there.
Martin Luther

You will not be in heaven two seconds before you cry out, why did I place so much importance on things that were so temporary? What was I thinking? Why did I waste so much time, energy and concern on what wasn't going to last?
Rick Warren

If you are a Christian, you are not a citizen of this world trying to get to heaven; you are a citizen of heaven making your way through this world.
Vance Havner

The church is not the way to heaven; the church is the sign that points to heaven.
Adrian Rogers

There are no crown-wearers in heaven who were not cross-bearers here below.
Charles Spurgeon

The nearer anyone is to heaven, the more earnestly he desires to be there, because Christ is there.
John Owen

Earth has no sorrow that Heaven cannot heal.
Thomas Moore

---
Treat yourself to these fr'ee Christmas novels!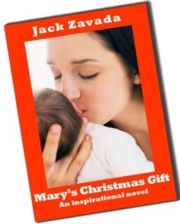 The f'ree Christmas ebook novels I wrote a few years back continue to be some of the most popular things on www.inspiration-for-singles.com, and if you haven't read them yet, you can still download them to your computer without any cost or strings attached.

Here are the download pages:

Mary's Christmas Gift, a modern novel about single executive Mary Chapman, who finds herself pregnant at Christmas time, and how God steps into her life in a big way.

A Cowboy's Christmas Prayer, with over 40,000 downloads, is by far our most popular fr'eebie on the web site. It tells the 1880s story of Gretchen Norgard, a widow with a teenage son, and the broken-down cowboy who wins her heart.

Appalachian Christmas Dream, set in the early 1900s in America's coal country, features young school teacher Junie Corban and her dream to teach illiterate adults how to read and write.

---
Thanks for answering our survey!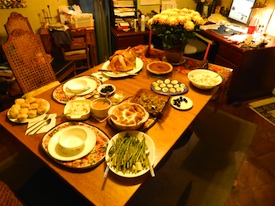 Thanks to those who took the time to respond to last month's survey: Where do you go to church and how often do you attend? I heard from Inspire-O-Gram readers as close as Illinois, where I live, and as far away as Botswana. We had a wide variety of denominations represented. Keep it up! God appreciates your worship.

As usual, you can reach me by email via our secure contact form or email me at jack@inspiration-for-singles.com. I always appreciate hearing your comments on the newsletter or web site.

A quick note on Thanksgiving. Nobody's life is perfect, even the lives of those who seem to have perfect lives. Rather than envying those folks for what they have, let's try to be grateful this year for what we do have. When you have Jesus as your Savior, you are rich in all that counts!

If you celebrate Thanksgiving where you live, have a peaceful, relaxed holiday this year. Let someone else know you're grateful for them, too.

Until December,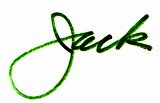 Jack Zavada
www.inspiration-for-singles.com
401 Indiana Ave
Streator, IL 61364 USA