---
December, 13 2011 Issue #069
Give a gift to yourself
this Christmas season
Someone reading this is angry at God because you're not married. If it's not you, maybe you have a single friend who feels that way. Then please forward this newsletter to them.

With Christmas approaching, we're all anxious about getting gifts for others, but what about ourselves? I'm not talking about a material gift. If your relationship with God isn't what it should be, now's the time to give a gift to yourself--the gift of letting God's love come into your heart again.

It's lonely without him. I know. I have felt that anger and frustration over the years. But we are lost without God, just stumbling through life without a close, loving relationship with the One who loves us most.

Even if you don't feel open hostility, you may be holding onto some hidden resentment. Please think about opening yourself fully to him. Here are some thoughts on how to give this gift to yourself.

---
You live a Christmas life
If this season finds you lonely,
then take these words to heart.
There's a way to find the love you seek,
I'll tell you where to start.

We get into a habit
of how we hear and see.
We chain ourselves to sad beliefs
'til we're no longer free.

We focus on the bad events
and minimize the good.
Our vision becomes blurry,
our world misunderstood.

But a baby came to rescue you
in a stable long ago.
His Word holds all the answers
to the things you need to know.

He gives you presents every day:
peace and hope and love.
His Spirit lives inside of you,
not somewhere far above.

He made a sacred promise
and fulfilled it on the cross.
That you will share his kingdom,
that you will not be lost.

So look upon his happy gifts,
don't focus on the strife,
Celebrate his love each day.
You live a Christmas life.

~ Jack Zavada, 2011 ~

---
Especially helpful this time of year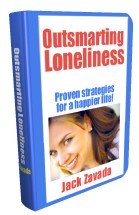 Loneliness doesn't take any holidays. In fact, it works overtime on holidays, trying to drag us singles down. Don't let it!

When you understand that loneliness can't be eliminated but it can be managed, you're on the way to victory. Outsmarting Loneliness, my ebook, will help you get the upper hand over this aggravation.

We singles spend lots of dough on things that are forgotten the next day, things that have no lasting value in our life. The $7.97 price of Outsmarting Loneliness is an investment that will pay dividends of happiness for many years to come.

It's practical. It's proven. And, unlike books you buy in bookstores, this ebook has a money back guarantee. Get full details at Outsmarting Loneliness.

---
December Quotapalooza
December's quotation comes from Frank McKibben. I couldn't find anything out about Frank, but his memory lives on with this bit of wisdom:

This is Christmas: not the tinsel, not the giving and receiving, not even the carols, but the humble heart that receives anew the wondrous gift, the Christ.
~ Frank McKibben ~

We singles can get our minds wrapped up in so many time-wasting pursuits. We endlessly mull over conversations and hurts that take us nowhere. This time of year it's smart to put on the mental brakes, get off those dead ends, and get back on the road to Jesus.

When you cut through all the disappointments of this season, there's Jesus, still calling to us, so right and true. He is, and always will be, the only Gift that matters.

---
Keep your Christmas spirit glowing!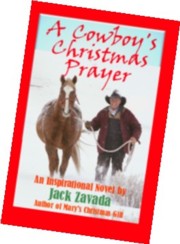 Our three f'ree Christmas novels have been big hits with readers over the years. If you haven't read them yet, you can download any or all, and the only cost will be the time it takes you to click them onto your own computer.

Each ebook is less than 100 pages, so you'll get a burst of joy and inspiration in this hectic season, or save it and read it in January for an extra squirt of happiness.

No expensive e-reader required! These ebooks are all in PDF format, so all you need to read them is the f'ree Adobe Reader program. We even tell you where to get that. This is a doozy of a deal! F'ree Christmas Novels!

---
If the holidays beat you up, try this
If you're a single person who'll be glad when the Christmas season is over, you're not alone.

Here are some articles that may help you get through this tough time:



---
Test your Christmas knowledge!
Here's a fun way to learn more about Christmas. My friend Mary Fairchild at www.christianity.about.com has a neat Christmas Bible Quiz that only takes a few minutes to do. Enjoy!

As always, my inbox is open for your comments, suggestions, gripes, and what-have-you. You can email me using our mistletoe-resistant contact form.

If you'd like to give me a gift this year, here's one that will help me out and it won't co'st you a cent. In October, www.inspiration-for-singles.com took a big slam, when Google's Panda algorithm changes caused my traffic to drop by almost 50%. Here's how you can help. Just tell a single friend about www.inspiration-for-singles.com or spread the word on Facebook or Twitter. Thanks for giving!

My prayer for you this Christmas season is that you go outside some night where it's quiet, look up in the starry sky, and realize that the Creator of the Universe is madly, wildly in love with you. Throw him a kiss!

Merry Christmas and Happy New Year,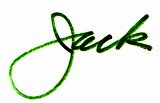 Jack Zavada
www.inspiration-for-singles.com
401 Indiana Ave
Streator, IL 61364 USA