Inspiration to help you thrive in the single life!
You're receiving this free ezine because you signed up for it at www.inspiration-for-singles.com--which proves how smart (and good-looking) you really are!
If you like Inspire-O-Gram, please forward it to your friends.
If a friend did forward it to you, please sign up for your own free subscription at: Inspire-O-Gram


---
Issue #014, May 22, 2007
Ouch!
Sometimes the single life hurts. Speaking from my own experience, I know that at times it can be downright painful.
The theme of May's Inspire-O-Gram is how to constructively deal with those times when everyday living can be a downright chore.
Our first article has some thoughts on things to try when you're just plain fed up with the monotony of life.
What if it's more serious? What if loneliness is really getting you down? What should you do with that feeling of emptiness?

Quote time...
May's quote comes from Carole Mayhall, from her 1988 book, Help Lord, My Whole Life Hurts:
"...up to this time in my Christian life, I had been coming to God for something--for His peace, His love, His power, His grace--and He had let me do that. But now he was wanting a more mature relationship. He was wanting me to come to Him just for Himself and not for anything He would give me.
F'ree mini-encouragers!
Instead of our regular poem in this issue, I'm offering 2 f'ree mini-encourager booklets. They're great to tuck inside a card to a friend or loved one who needs a lift in spirit.

These 4-page encouragers have gorgeous color covers but also print out well in just plain black. You can download God is your biggest fan and When God Seems Far Away here...
Rut Disruptor
For May, our Rut Disruptor question is:

Do I want more of God, or more of the stuff He can give me?

If you're like me, you sometimes forget that God's presence is sufficient to get you through tough times. I'm still learning that God will show me as much of himself as I'm willing to receive.

Think how you would feel if every time a friend visited, they asked you for something. Fortunately, God isn't offended by that, but after all, it is about a relationship with him.

I'm still working on improving. How about you?
Another ebook sneak preview...
Single & Sure, a major ebook I'll be offering on www.inspiration-for-singles.com later in the year, is coming right along.

This 200+ page work gathers all the life-lessons I've learned over the past couple decades and puts them into practical principles for thriving in the single life.

The first draft of this all-new material is nearly finished, and I'm eager to start polishing it so it will be clear, concise, and pain-relieving! Keep watching Inspire-O-Gram and the site for more news.

I always appreciate your comments on this newsletter or the site. Just use this handy-dandy contact form.

If you find Inspire-O-Gram and www.inspiration-for-singles.com worthwhile, be sure to tell a friend. Please help me meet my traffic goal for 2007!

Thanks for reading, and see you here next month!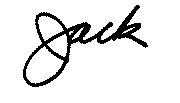 Jack Zavada
www.inspiration-for-singles.com
401 Indiana Ave
Streator, IL 61364 USA