---
October 18, 2011 Issue #067
How to feed your soul

We singles can get beat up, battered, and bruised by the stresses of everyday life. Too much for too long drains our spiritual energy. It becomes time to feed your soul.

Lots of voices are telling us how to do it, but behind most of their appeals is a cost. Whether it's a pampering product or self-help seminar, these methods can end up doing more harm than good. And, they can end up costing you a fortune. Don't fall for stuff that will only feed some self-professed guru's wallet.

The methods I recommend are not only f'ree, but they work. I have used them all my life and so have millions of others. There's no secret to them. You don't have to train or study for years.

Here are the right ways to feed your soul.

---
Within my soul
Morning brings a pristine day,
its promises unfold.
Though I greet them with a heartfelt hope,
something aches within my soul.

I cannot stall the rush of time
to make my pleasures last.
I cannot hurry time along
so troubles go by fast.

My life remains a riddle
with an answer that's unclear.
I'm not sure of what I'm doing
or the reason why I'm here.

When doubt drives me to my knees
and heartbreak takes its toll.
I feel my Savior's loving touch.
Something aches within my soul.

~ Jack Zavada, 2011 ~

---
Do you control your thoughts
or do they control you?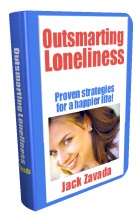 The answer to that question is the key to Outsmarting Loneliness, my ebook on singles' #1 problem.

You may be absolutely convinced that you are powerless to take control of your thoughts and emotions, but Outsmarting Loneliness will prove that you can. Just think how that could change your life!

Outsmarting Loneliness is based on the psychologically proven technique of cognitive therapy. Break the cycle, break loneliness.

It's only $7.97, comes right to your computer in PDF format (no ebook reader required), and has an 8-week money back guarantee. Here's where you can learn more.

---
October Quotestravaganza
October's quotation comes from American essayist and philosopher Henry David Thoreau, author of Walden:

Money is not required to buy one necessity of the soul.
~ Henry David Thoreau (1817-1862) ~

What are the necessities of the soul? Just a few of them are kindness, love, integrity, beauty, contentedness, peace, and joy. We have been tricked, in our age of materialism, to believe that we have be rich or pay to have those things. We don't.

We singles can make the mistake of thinking, "I'll be happy when…" We don't have time to wait. We have to seize happiness along the way. God's love is available to each one of us, at any moment, and therein lies our soul's true happiness.

---
More soul-lifting stuff!
www.inspiration-for-singles.com has nearly 320 pages up now--that's a lot of soul-lifting stuff.
Here are some of our most popular articles:
For all complete list of all articles on the site, go to Site Map.

---
Double check your address, please!
After the September Inspire-O-Gram, I received some nice emails from readers, but unfortunately I was unable to write back to a couple of you because your email address was not complete on our contact form. So if you'd like an answer to your email, please double-check your email address to make sure it's correct. If you want to make an anonymous comment, just omit your email address altogether.

I do personally answer each and every email (even the snarky ones), so to get your thoughts before my eyes, use our gluten-free contact form.

That, my singleton friends, concludes our October newsletter. Thanks for reading, and if you have a single friend who might enjoy Inspire-O-Gram, please forward this copy to them so they can sign up for their own subscription.

Until November, then, keep feeding your soul the right stuff!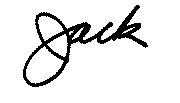 Jack Zavada
www.inspiration-for-singles.com
401 Indiana Ave
Streator, IL 61364 USA