Hope for Hurting Singles


helps you make sense of life!

The single life can be frustrating, but you don't have to try to figure it out alone.  Now you can get insight into why things happen--and have a future filled with confidence instead of worry.

Hope for Hurting Singles: A Christian Guide to Overcoming Life's Challenges will show you there's lots to be hopeful about.  You'll see your life from a fresh, new, optimistic perspective.

Jack's new ebook is based on his 40 years of experience as a single adult--plus feedback from visitors to his web site, www.inspiration-for-singles.com.

Hope for Hurting Singles will help you overcome:
Loneliness
Shyness
Rejection
Bitterness
Fear
Depression, and much more!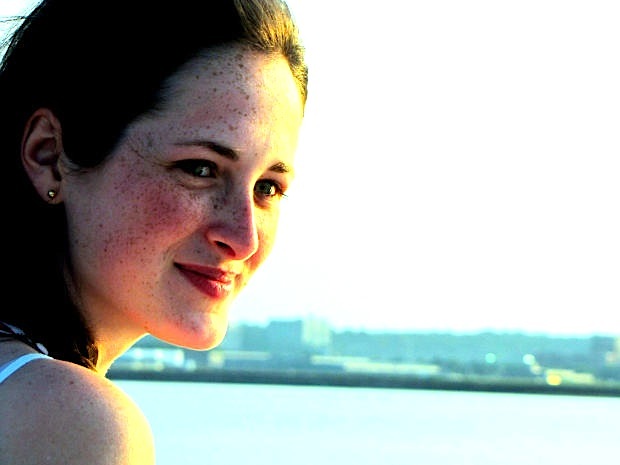 This is a Christian book, filled with rock-solid biblical principles.  No far-out religious craziness here, just practical, real world advice.  You'll see how your faith in God is the most powerful tool you have for finding happiness in life.  And, you'll learn the keys to effective prayer and beating destructive thoughts.
Here's the Table of Contents:
Chapter One:  Turn Your Loneliness into Solitude

Chapter Two:  How to Break the Chains of Shyness

Chapter Three:  How to Come Back from Rejection

Chapter Four:  How to Find Hope in the Midst of Depression   

Chapter Five:  Look in the Right Place for Self-Esteem

Chapter Six:  Take Back Your Life from Fear

Chapter Seven:  How to Get Past Frustration and Bitterness

Chapter Eight:  Peace of Mind is Possible for Singles

Chapter Nine:  Faith is the Key to the Single Life

Chapter Ten:  Hope for Hurting Singles
This powerful 146-page PDF format ebook is only $9.97.  When your Pay Pal or credit card payment is approved, you'll receive a download link from Clickbank for an instant download to your computer.

* Start to see life as an adventure,
    filled with opportunities.

* Overcome the regrets of your past.


* Wake up each day with new energy
   and purpose.
* Become the person God wants
   you to be!



---
Hope for Hurting Singles is covered by an 8 week money back guarantee offered by Clickbank, the most trusted name in electronic download products.

---
IMPORTANT NOTICE!
Hope for Hurting Singles is a Christian book, based on the Bible and the teachings of Jesus Christ.  If Christianity offends you, please do not order this book.

---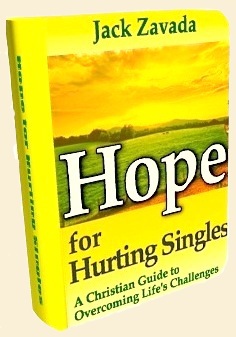 This is the most encouraging thing you'll read this year.  Get your copy now!

    Only

$9.97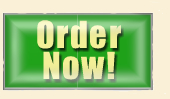 Click this button ONCE to order!
---
New!  Now available for Kindle: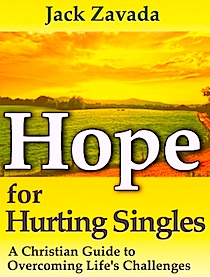 Click this link to order Hope for Hurting Singles from Amazon.com's Kindle Store
---
QUESTIONS about Hope for Hurting Singles?

---