Inspire-O-Gram will give you a boost every month to keep you going!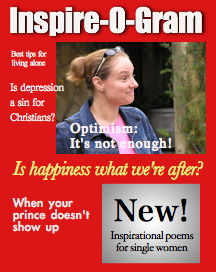 Inspire-O-Gram, our FREE email newsletter, delivers a boost of encouragement right to your inbox!

Every monthly issue is packed with uplifting articles, inspirational poems and quotes, and special previews on new freebies available on www.inspiration-for-singles.com.
You'll find the same kind of fun, practical info you've been reading at www.inspiration-for-singles.com. We know you're tight on time, so you'll get a month-size boost in just a few minutes' reading!
Want to read some back issues
before you subscribe? Visit here...

Just fill out the easy form below, and start watching your email inbox for the next issue!
Bonus! Subscribe now and receive our FREE inspirational plaques collection!

Our brand new Inspirational Plaques Collection is the most valuable thing you'll find on the Web all year, and it's yours FREE when you sign up for our free ezine.
These 15 enthusiasm-building poems, quotations, prayers and confidence boosters are specially sized to fit standard photo frames you can find at any dollar store.
After you submit your name and email address for your free Inspire-O-Gram subscription, you'll receive a confirmation message with the download URL for your free Inspirational Plaques Collection, in ebook form.
PS: We encourage you to tell your single friends and relatives about our FREE newsletter, or mention it on your Facebook page. Remember that you or they can unsubscribe any time, and we NEVER sell or rent our mailing list.

Like FREE stuff? Check this out!

One of the nice things about having a web site like this is I can give away all kinds of neat stuff, besides letting you know about some other worthwhile sites with freebies.
I always strive to make my free offers something that will boost your spirits, educate you, and maybe bring a smile to your face.
So check out our page of FREE STUFF...