A life makeover can put you back
on the path to happiness
Is a life makeover calling your name?
Sometimes the nuisances of the single life, large and small, can pile up to the point that you feel there's nothing to feel good about. You're in a rut and don't think you'll ever get out.
I'm not much on "pull yourself up by your bootstraps" kind of fixes. But I do believe your attitude can make a world of difference.
Here are some things that may be going on if your life is miserable.
Life makeover problem #1: No God
We get our meaning in life from what we choose. If we choose our career or stuff as the source of our meaning, we can easily get frustrated when we don't get what we want. And I can tell you as a 57 year-old guy who worked four jobs in his 30-year career that sooner or later, jobs always crash.
The material stuff you thought was going to finally make you happy eventually loses its appeal, so you're always chasing the "next big thing."
I know. I did it, and it doesn't work. You can believe me now, or you can waste years of your own life learning for yourself. Look, I gain nothing from lying to you. The advantage of a site like this is that you learn from my pain so you don't have to go through it yourself.
Now if you're into New Age or you don't believe in God, you owe it to yourself to keep an open mind and finish reading this article. All you have to lose is five minutes of your time--and you might just get the answers you've haven't found so far.
Life makeover problem #2: Too much God
Okay, you didn't expect that, but it's true. Some people become paranoid about making decisions. They ask God which clothes they should wear, which cereal they should eat, and which way they should wear their hair.
God wants us to be dependent on him, but he also gave us intelligence so we can make simple decisions on our own. I prayed before the big choices in my life, like whether I should take a certain job, whether I should buy a certain house, or whether a person would (or would not) make a good spouse. I believe God gives us guidance in those things, but let's be adults and trust that God will work things out if we inadventently mess up.
As we read the Bible and ask God to reveal himself to us, we'll get a solid sense of what he expects of us. We'll be familiar enough with his principles to make wise decisions with confidence. We'll use our God-given intellect to understand what the right thing is and how to do it.
Instead of being panicky, we'll live with faith that God is watching out for us as one of his beloved children.
Life makeover solution: Knowing what God wants
Your life makeover begins step by step. Everything won't change for the better at once, but when you begin to understand what matters and what doesn't, it will be like a veil was pulled off your eyes.
We find God's basic guidelines in Luke 10:27-28:
"Love the Lord your God with all your heart and with all your soul and with all your strength and with all your mind; and, love your neighbor as yourself." (NIV)
This sounds like a tall order, but at least it's clear. Hey, you already know what hasn't worked, right? Einstein said, "The definition of insanity is doing the same thing over and over and expecting different results."
Had enough? Ready to try something new?
Go about your life makeover gradually.
Start by tossing the notion that anything other than God will bring you real, deep-down happiness. It hasn't worked up 'til now, has it?
Then give a hard, critical look to the promise of materialism.
If you're honest, you'll be shaken by what you see. You'll want to reorder your priorities, and quickly.
Build relationships that are mutually positive.
Sometimes you give too much, but sometimes you take too much, too. Have you been greedy? Too self-centered? Stingy with your love? Love given tends to come back in love received. Remember the command to love your neighbor (and that includes everybody) as yourself. Don't be a user, but don't let yourself become a doormat, either.
Ask God to do what you haven't been able to do yourself.
This is where your loving, heavenly Father really shines. When you give him your battered, beat-up character and ask him to transform it into the amazing character of his son Jesus, get ready for major changes in your life--for the better.
Your life makeover will take prayer, perseverance and patience. But once you get on this pathway, you'll know, without a doubt, that you're going in the right direction.
---
Here's a step-by-step makeover plan!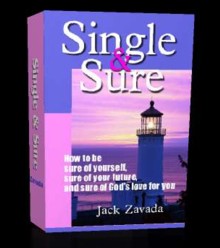 Single & Sure, Jack's new ebook, cuts through the fog and shows you what's worth chasing--and what's not.
It's a clear, step-by-step approach to winning over loneliness, beating depression, overcoming shyness and low-self-esteem. This is real world help, based on Jack's nearly 40 years' experience as a single person.
Why stumble through life on trial and error? Learn from somebody who already did, and save yourself a world of time and trouble.
Check out the benefits of being Single & Sure...

---
Further reading on this topic...
Stop treating yourself like a bad luck person...
What it takes to break free...
Tips on how to handle feeling stressed out...

---