These quotations about God point
to life's most profound truth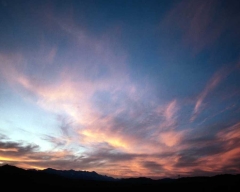 God alone satisfies.
Do you believe that? Have you come to the place in your life where you've tried almost everything except God and you still come up feeling empty?
The older you get, the more sense this truth makes. The more disappointments you suffer, the more sense this truth makes.
Solomon, the wisest man in human history (with the exception of Jesus Christ, of course), discovered at the end of his life that riches, love affairs, accomplishments, and even education were unable to bring deep-down, lasting happiness.
The people who wrote and said the quotations below may not have been as wise as Solomon, but their statements reflect a knowledge of life's deepest truth:
God alone satisfies.


---
When once you know him, Christ is absolutely irresistible.
Hannah Whitall Smith
Now here is life's most exciting truth: You are one sent by God to manifest Him in a manner no human before you, no human on earth with you, and no human who may come after you, could or ever can manifest him!...You are one sent by God--for a very specific purpose.
M. Raymond
The better you know God, the more often you turn to him.
Erwin W. Lutzer
Since when is the blessing of God judged by material prosperity?
Earl D. Radmacher
The person who refuses to accept the God of the Bible is destined to follow a god of their own making; there is but one God.
H. Crosby Englizian
There is no substitute for holy living, because we belong to a holy God.
William F. Kerr
The more confidence you have in God, the more you can face the truth about yourself.
Thomas Keating
Earth's heartaches are healed by the promises of God. When we are home at last, the homesickness will be over.
Calvin Miller
God is always trying in many ways to teach us about himself.
Dallas Willard
What you believe about God will determine what you do and how you live. What you do reveals what you believe about God, regardless of what you say.
Henry T. Blackaby
To turn toward God means, first, turning away from whatever is untrue or delusory--no matter how much comfort it brings.
Michael Casey

---