"How can Single & Sure help me
if I'm not a Christian?"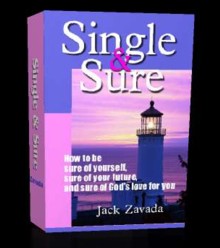 If you're not a Christian, you may assume that Single & Sure has nothing in it for you.
But the 40 years of life-lessons you'll discover in Single & Sure and these bonus books apply to everyone, regardless of your faith.
Look, we all go through a lot of trial and error in life, trying to find the truths that work and discarding the lies or wrong assumptions that bring us misery and trouble.
But why waste all that time and energy when I've already done that for you? Profit from my mistakes instead of making them yourself. Benefit from the wisdom I've gathered from life and from hundreds of self-help books I've read, without having to sift through all that yourself.
You'll find the best, the truest, and the easiest ways
to grab the happiness you want out of life.
In the next few months, you'll spend $15 on a lot of things:
One music CD;
A couple lunches in fast-food restaurants;
Bottled water or soda;
A blouse (women) or a shirt (men);
3 or 4 magazines.
Of course, there's nothing wrong with all those things. But what if, instead, you could:
Discover the answers to problems you've struggled with for years,
See how simple steps can take you ever closer to your goals in life,
Grasp secrets about self-esteem and confidence that most people never learn,
Finally take control over loneliness, shyness, and depression.
Wouldn't accomplishing any one of those things be worth $15? Sure it would! And what's more, Single & Sure comes with an 8 week Moneyback Guarantee.
A bigger, happier life can be yours--no matter what your faith. So please close this window and continue reading about all the benefits to you in Single & Sure. You'll be very glad you did...
---