The way you dress tells others about your personality--and your morals
As a single person, do you make careful choices about the way you dress?
Often we men are guilty of not paying much attention to fashion, but our clothing reveals a great deal about our personalities too.
Some single guys apparently aren't acquainted with that modern invention, the clothes hanger.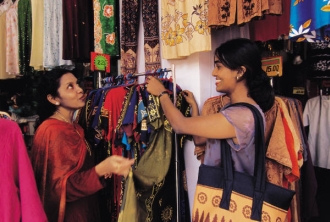 As Christians, both men and women can dress modestly and still be in style. The way you dress governs not only how you look, but also how much you spend on clothes.
What signal are you sending?
No doubt about it, ladies, your choice in clothes can attract men. The problem, though, is you'll probably attract the wrong kind of men if you dress a certain way.
When we wear clothes that are obviously expensive, it promotes an image of success and wealth. But if you can't afford those clothes and have to charge them, you're putting the emphasis in the wrong place.
If you're looking for a sincere Christian man, the way you dress projects an image of modesty, poise, and respect for God that will be instantly recognizable to him. On the other hand, if you wear revealing clothes just because that's the style, you're not projecting the true you.
Jesus: not a member of the fashion police
Surprisingly, clothing isn't just a modern issue. When Jesus was teaching about having faith in God to provide, he said:
"And why do you worry about clothes? See how the lilies of the field grow. They do not labor or spin. Yet I tell you that not even Solomon in all his splendor was dressed like one of these. If that is how God clothes the grass of the field, which is here today and tomorrow is thrown into the fire, will he not much more clothe you, O you of little faith?" (Matthew 6:28-30)
Few of us are like the people Jesus was speaking to--we all have enough clothes to wear, but sometimes we let our clothes become our personality instead of reflecting our personality.
While we should try to be as neat, clean, and presentable as possible, too much emphasis on clothes can turn them into an idol, stealing time and attention we should be giving to God.
Okay, no more lecturing...
I try very hard on inspiration-for-singles.com to avoid lecturing and scolding. No one was ever scolded into loving Jesus more.
My point is this: the way you dress plays such a major role in the impression you make on people that you should give careful thought to what you're seen in, and how you will be perceived because of it.
Keeping up with current fashion can be fun, until it detracts from our witness. And, clothes can be so expensive and have such a short life span that we should use common sense when buying.



Love Jesus, live for Jesus, dress for Jesus.
Strive to be attractive
and
sensible in your appearance, and you can't go wrong.
---