Self reliance is a worthy goal for you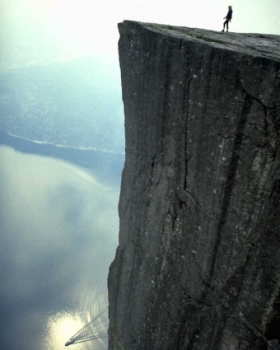 Self reliance is a worthwhile goal for the Christian single, a state in which you function well on your own, as a responsible, mature adult.
But getting there isn't always easy. All of us are influenced by our past. If your past included strong dependence on another person, you may find it hard to stand on your own two feet. You may long for the days when somebody else took care of you and tended to your needs.
Self reliance takes three steps: 1) Mastering new skills; 2) Taking control of your finances; and 3) Trusting God.
1. Master new skills
Becoming independent requires competence in many areas. Eventually you'll find that you have to take over a task that someone else did for you in the past. My mother is an excellent example of that.
When my father was alive, he mowed the lawn and took care of all the yard work. When he passed away, my mother decided she wanted to do that job.
I lived 100 miles away and my brother had his own yard and family to take care of. She learned how to operate the garden tractor, cut the grass, and keep her lawnmowers maintained. She continues to cut her grass once a week in the summer.
She and my father shared the financial duties, but she quickly took charge of that after his death as well. Except for a few chores that she hires done, my mother is remarkably self reliant.
Often, the biggest hurdle in mastering new skills is not learning the technique, but overcoming your fear that you're not capable. We're all capable of doing much more than we think.
The key is to look on failure and mistakes as inevitable parts of the learning process. When you can step back emotionally and see what lesson you can learn from a mistake, you're well on the way to mastering a new skill.
Conquering something new takes time. Don't expect instant success. Be kind to yourself. Above all, don't call yourself stupid or dumb. Use this secret to make the task less intimidating.
When you have a setback, take a deep breath, take a break, and try again. And again and again and again, if necessary. Eventually things will fall into place. You'll start to understand it. Before long, you have mastered a new skill!
Congratulate yourself for growing! Every accomplishment will build your confidence. As you build your repertoire of skills, you'll increase in self reliance.
2. Take control of your finances
You can't escape the need for money. Money itself is not evil; it's merely a medium of exchange. But in your quest for self reliance, it's absolutely crucial to take control of your finances.



If you don't control your finances, they'll control you.
Self reliance doesn't necessarily require finanical independence, but it
does
mean you'll have to eliminate
debt
and start a
savings plan.
Why are these factors so important? People who pay you money can often tell you what to do and sometimes even how to think. While you may not be able to make yourself independent of an employer, getting out of debt and having an emergency fund will increase your choices. That's good.
Find a way to save money every week, if only a little. Put it in a savings account or investment so you're not tempted to spend it. Set a financial goal, then start saving to achieve it.
When you're not relying on relatives, banks, loan companies or credit card cash advances, you're making big strides toward self reliance.
3. Trust God
You may wonder how trusting God will move you along the path to self reliance. The truth is that none of us is completely self reliant or independent.
God created us to need other people, and to need him. Jesus, a model for our behavior, enjoyed being surrounded by his friends and disciples. He also spent much time alone, praying and talking with his Father.
We can't always control our emotions or longings. We need God's help, and we need it often. God wants us to depend on him. We are tempted to go it alone and "do it our way."
In my own life I've tried that enough and failed enough to learn that God's way is better than my way. It's not a sign of weakness to depend on God. Just the opposite! It takes strength and courage to trust God. It takes intelligence to know when you're in over your head.
You'll find that when you trust God, he'll help with you with the first two steps of self reliance. He'll encourage you as you work to master new skills. And, he'll show you the wisdom and necessity of taking control of your finances.
We're adults. We're mature Christians who are leaving our childish ways behind. But at the same time, we're also children of God, loved and cared for by this kind and generous Father.
Ironically, you'll find that the more you rely on God, the more self reliant he'll let you become in other areas of your life. You'll feel more confident, more assured, and more open to growth. That kind of self reliance is true success.

---
The power of choice is God's gift to you...


---
Would you drive cross-country without a map?
If you wouldn't think of heading out for a long road trip without a map, doesn't it make sense to get some directions in your journey of life?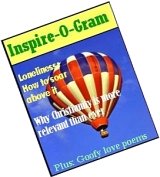 Inspire-O-Gram, our free ezine, can give you some tips on which roads to take, which to avoid--as well as some super points of interest along the way.
Each free issue of Inspire-O-Gram contains uplifting articles, a poem to make you smile, a quote from an awesomely wise man or woman, and The Rut Disruptor.
These thought-provoking questions will get you asking whether you're on the right road or whether you're on a detour going nowhere. And remember--Life is one trip where you can't drive in reverse.
It's fun, it's free, it's non-fattening. Just fill out the form below and start watching your email inbox for the next issue of Inspire-O-Gram.