Is it possible to pray too much?
On the surface, it seems almost blasphemous to suggest that you can pray too much. But if you give it some serious thought, you'll realize that all of us do that from time to time.
Often it comes when you're desperate for something. When you pray too much, your prayers take on a sense of anxiety and pleading about them. You may work yourself into a state of spiritual exhaustion. That's when you know you're praying too much. Then it's time to take a break and listen for God's answer.
It's a warning sign when you're adamant about getting God to change his will to your will. When you don't trust God enough to do the right thing, it's time to stop and reconsider your motives.
When you're trying to reach a destination (the answer to your prayer) by running full out all the way (praying too hard, too long), sometimes God will show you that you're on the wrong road and that you ran right past the path he wants you to take, namely his will.
In the parable about the persistant widow and the judge (Luke 18:2), Jesus encouraged us to persevere in prayer. But in some cases we need to stop, rest in God, and pray, "Not my will, God, but yours be done."
When you put your trust in God, he will restore and refresh you. After a while, the Holy Spirit will guide you on the way he wants you to go: resuming your original prayer with calm confidence in God, or changing your prayer with the unshakeable assurance that your loving Father will always do what is best for you.


---
Inspire-O-Gram: What's in it for you?
Before we do anything, most of us subconsciously ask, "What's in it for me?"
When you subscribe to our free ezine, Inspire-O-Gram, here's what's in it for you: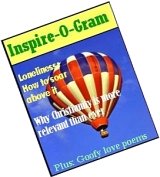 Practical articles that give proven, real-world tips on how to respond to your life problems.

Inspirational quotes from some of the most respected Christian teachers today.

Funny poems that help you put things in their proper perspective.

The Rut Disruptor, a series of thought-provoking questions that will draw you away from what's-not-working to what will.
I'd offer you a moneyback guarantee, but hey--it's free! Not much to lose, is there?
Just fill out the easy box below, and watch your email inbox for the next issue of Inspire-O-Gram!